Biorefinery Briefing
The Owners and Operators of NorthEast Biofuels Update Construction Progress

7/31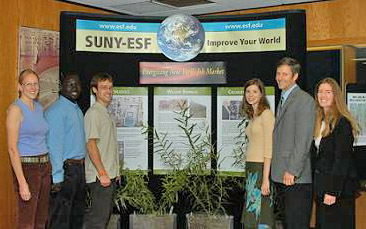 From left to right - Jaconette Mirck, Godfrey Ofezu, Thomas Buchholz, Emily Pulley, Dr.Larry Smart and Dr. Maureen Fellows set up the ESF shrub willow display and answered questions about how research and development of shrub willow will eventually provide feedstock for the Fulton Biorefinery.
"The SUNY College of Environmental Science and Forestry is pleased to work with Permolex/Northeast Biofuels in developing local biomass feedstocks for the Fulton ethanol facility," said Dr. Cornelius B. Murphy, Jr., president of SUNY-ESF, during today's (July 28, 2006) informational briefing at the Riverview Business Park in Fulton, N.Y.
Media and elected officials were briefed on the redevelopment of the old Miller Brewery into a biorefinery as well as plans for further development of the Riverview Business Park. Among the attendees: Eric Will II, Northeast Biofuels; Andrew de Pass, managing director, Citigroup Venture Capital International; Lee Hall, BOC Process Gas Solutions; Dave DeClaire, Plumbers and Steamfitters Local 73; Terry Brown, chairman, O'Brien & Gere Engineers; and local elected officials.
The Renewable Fuels Association estimates that there are 4.5 billion gallons of installed ethanol capacity in the U.S. with a projected national need in 2012 of 7.5 billion gallons.
President Murphy explained, "The Fulton facility is important in that it will be the first major ethanol production facility in New York and it is very important in the equation to meet the projected national demand."
"We at SUNY-ESF are excited at the prospect of assisting Permolex/Northeast Biofuels to develop ethanol from lignocellulosic feedstocks and supporting their efforts to help the economy of Central New York and a more sustainable future for New York," continued Dr. Murphy.
###
Release No. 72 July 31, 2006, updated 7/1/06
Recent ESF News
News Archives
Communications & Marketing
SUNY-ESF
122 Bray Hall
1 Forestry Drive
Syracuse, NY 13210
315-470-6644