ESF President Cornelius B. Murphy Jr. Named Grand Marshal of Syracuse St. Patrick's Parade
Dr. Murphy will lead the marchers on March 17 in downtown Syracuse
1/11/2007
The video originally included in this story is no longer available via this page. Contact web@esf.edu if more information is required.
SUNY College of Environmental Science and Forestry (ESF) President Cornelius B. Murphy Jr. was named grand marshal of the 2007 Syracuse St. Patrick's Parade.
Murphy called the appointment "the most fun and personal honor" of his long career.
Accompanied by his wife, Joanne, and several members of his family, Murphy accepted the honor during the traditional parade news conference at Kitty Hoynes restaurant in downtown Syracuse.
"Syracuse is an extraordinary place to live," Murphy said. "I'm uplifted by this honor and I'm even more committed to doing what I can do to make this a better place."
He called his family "about as Irish as you could ever hope for." Murphy's ancestors include Sean Treacy, who was involved in the Tipperary Volunteers' efforts to establish a free Ireland in the years that followed the Easter Rising of 1916. The Murphys have four children and five grandchildren.
Robert C. Ganley, a former colleague of Murphy's at O'Brien & Gere, called Murphy "the most well-rounded individual that you could find," citing his accomplishments in the areas of education, business, and community, along with his close ties to his family.
Murphy joined O'Brien & Gere in 1970, after earning his doctorate at Syracuse University. He had a 30-year career there and helped transform the company from a regional engineering firm into a multifaceted international corporation.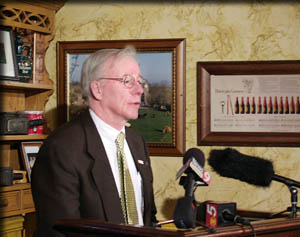 He was named president of ESF in 2000. He has led ESF through expansions of its academic offerings and community service projects, extended the college's partnerships with the business community, and expanded the college's outreach program that enhances science education in more than 20 high schools throughout upstate New York.
The parade steps off at noon on Saturday, March 17, in downtown Syracuse.
Recent ESF News
News Archives
Communications & Marketing
SUNY-ESF
122 Bray Hall
1 Forestry Drive
Syracuse, NY 13210
315-470-6644