ESF's 'Milt' Silverstein Dies at 90
Longtime ESF faculty member, National Academy of Sciences member

3/1/2007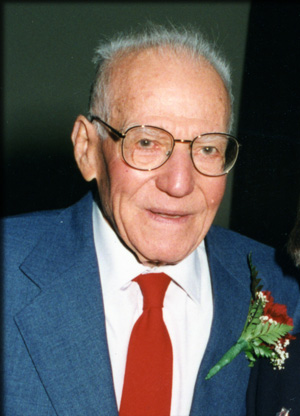 Dr. Robert M. "Milt" Silverstein, a longtime ESF faculty member who was known internationally for his pioneering work in the chemistry of insect communication, died Feb. 26.
Dr. Silverstein, 90, was elected in 2000 as a member of the National Academy of Sciences, one of the most prestigious awards that can be bestowed upon a scientist. He was famous for his study of bark beetles, which began in 1964 and led to several scientific breakthroughs, including the first identification of an aggregating pheromone, a substance released by an insect that attracts others of the species to a given location. He was a co-founder and longtime co-editor of the Journal of Chemical Ecology.
Dr. Silverstein was born in Baltimore, Md., and moved to Staten Island at a young age. He received his bachelor's degree from the University of Pennsylvania in 1937 and his masters' degree from New York University in 1941. He served with the U.S. Army during World War II. He then earned his doctorate from New York University.
He worked with the Stanford Research Institute for 21 years, during which time he wrote the first edition of his textbook, "Spectrometric Identification of Organic Compounds." The book has been updated several times over the years.
Dr. Silverstein joined the faculty at SUNY-ESF in 1969. He taught chemical ecology in the Department of Chemistry until his retirement in 1986.
He is survived by his wife, Olive; his son Paul; three grandchildren; and a great-grandson.
Recent ESF News
News Archives
Communications & Marketing
SUNY-ESF
122 Bray Hall
1 Forestry Drive
Syracuse, NY 13210
315-470-6644