ESF President Murphy Joins in the Painting of the Green Stripe
Dr. Murphy to march as Grand Marshal in parade
3/16/2007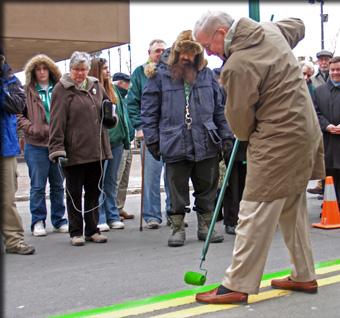 ESF President Cornelius B. 'Neil' Murphy, Jr., participated Friday (March 16) in the traditional painting of the green stripe on Salina Street in downtown Syracuse.
The stripe marks the route of the Syracuse St. Patrick's Parade, which Murphy will preside over as grand marshal.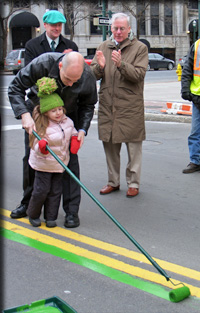 The parade steps off at noon Saturday, March 17.
Scores of ESF students and staff members will also participate in the parade. In keeping with the parade's theme of "Irish Trailblazers," ESF's environmentally friendly bio-diesel bus will be decorated with posters telling the story of the college's pioneering work in education, research and service related to the environment.