Centro Brings Hybrid Bus Technology to Syracuse
Hybrid Diesel-Electric buses are 33% more fuel efficient
3/23/2007
The video originally included in this story is no longer available via this page. Contact web@esf.edu if more information is required.
Syracuse, NY-Centro is now operating a fleet of nine Diesel-Electric Hybrid buses in Central New York, furthering its commitment to operate clean air buses for public transportation.
"We are proud to embark on our next phase of clean air bus technology," said Centro Executive Director Frank Kobliski. "Centro has long been at the forefront of providing environmentally responsible public transportation, beginning more than a decade ago with a significant commitment to Compressed Natural Gas (CNG) as a fuel source." Centro currently operates 120 CNG buses in its Syracuse-based fleet.
Hybrid Diesel-Electric buses are 33% more fuel efficient than current CNG bus technology. Centro estimates it'll reduce its fuel usage by more than 4 million gallons over the 12 year life span of these buses. In addition, these hybrid buses reduce noise pollution and operate at sound levels approaching passenger cars.
"I am very pleased that the SUNY College of Environmental Science and Forestry is part of Centro's very significant transition to even cleaner and quieter technology making public transportation in Central New York even better," said SUNY Environmental Science and Forestry President Neil Murphy. "We know it is going to take a collective effort to resolve the current energy constraints and the impact on climate change. It is not enough to just develop alternative fuels, we have to use fuel more efficiently and today we mark a major step in that direction."
The buses are powered by the GM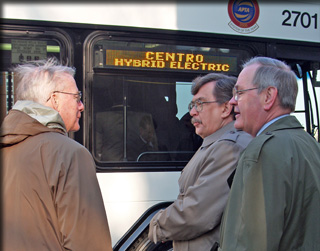 Allison Hybrid E System. The system captures energy during the breaking process and converts it to electricity, which is used to accelerate the bus. This unique process makes the bus more efficient in city driving than highway use.
The nine buses in service today are just the first wave of Hybrid buses to be purchased by Centro, which has plans to increase its hybrid fleet to more than 125 buses, in its four-county region, in the coming years.
Recent ESF News
News Archives
Communications & Marketing
SUNY-ESF
122 Bray Hall
1 Forestry Drive
Syracuse, NY 13210
315-470-6644