New York Lt. Governor David Paterson Visits ESF
On statewide tour to promote Governor Spitzer's Clean Energy Agenda

4/30/2007
SYRACUSE — New York Lt. Governor David Paterson told a group of SUNY-ESF students, "We're either going to run out of fossil fuel or we're going to destroy the environment. It almost doesn't matter. One way or another, we've got to find alternatives." (Post Standard, April 27, 2007)
Paterson heard from ESF students, faculty and President Neil Murphy during his April 26th visit, his first, to the campus. It was part of his statewide tour to promote the clean energy agenda that Governor Elliot Spitzer announced on Earth Day. Governor Spitzer wants 25% of the power used in the state to come from renewable resources.
P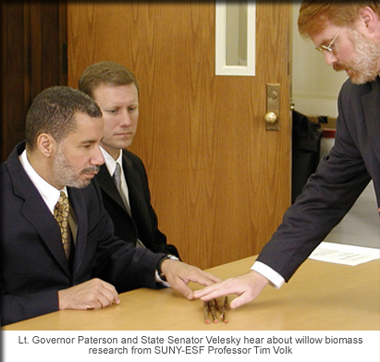 resentations included: the development of willow biomass crops for bioenergy, biofuels, bioproducts and agroforestry applications; breeding, selection and commercializing shrub willow; environmental and energy audits of the ESF campus and 400 acres of undeveloped woodland within the City of Syracuse; turning dining hall vegetable oil into biodiesel fuel for ESF vehicles; green roof technology; and, the college's 250-kilowatt fuel cell.
State Senator David Velesky (49th District) joined Lt. Governor Paterson for the tour and told him about ESF efforts to help with the cleanup of Onondaga Lake.
Recent ESF News
News Archives
Communications & Marketing
SUNY-ESF
122 Bray Hall
1 Forestry Drive
Syracuse, NY 13210
315-470-6644