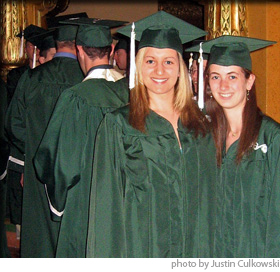 ESF Spring 2007 Graduation
380 Graduates Join Ranks of ESF Alumni

5/15/2007
ESF conferred about 380 degrees during joint Commencement exercises with Syracuse University May 13 in the Carrier Dome.
Brilliant sunshine and comfortably cool temperatures marked both the annual Commencement ceremony and ESF's convocation activities the previous day.
During Commencement, ESF conferred 294 bachelor's degrees, 70 master's degrees and some 20 doctoral degrees.
Weekend festivities began Saturday morning, May 12, with receptions for degree candidates, their guests and members of the ESF college community. The college's traditional convocation was that afternoon at the Landmark Theatre in downtown Syracuse. Bachelor's, master's and doctoral degree candidates were honored and the Distinguished Alumni Award was bestowed upon Curtis H. Bauer, '50. During the convocation, faculty honors were bestowed upon the top students in each of the college's discipline areas.
At convocation, ESF President Cornelius B. Murphy, Jr., reminded the graduates of words from scientist Marie Curie: "We must believe that we are gifted for something and that this thing must be attained."
Murphy asked the graduates: "What is your thing? This thing that will improve the quality of life; this thing that will help preserve our world's ecosystem; this thing which will help bring education and equality to all people; this thing which must be attained.
"There is nothing more important in life than helping others. This is why you were introduced to community service, and then you embraced it. Helping others leads to inner peace, quiet dignity and a better world," Murphy said.
"Marie Curie knew the 'thing' that had to be attained; she had the belief, confidence and perseverance to achieve it," he said. "You cannot give a better gift to the faculty, staff and administration at ESF than doing your 'thing' and doing it as well as you possibly can.
Several students received honors during Commencement.
Class Marshals leading the ESF degree candidates in the Commencement procession were Stephen M. Fox of Grand Rapids, Mich., and Nicole V. Formoso of Monroe. Three students were designated as class valedictorians: Ashleigh Marie Simeone of Amsterdam, Paul W. Simonin of Holland Patent, and James J. Willacker of Ellenville.
Faculty honors were bestowed upon Simeone (environmental studies), Simonin (aquatic and fisheries science), Irony C. Sade of Skaneateles (biotechnology), Wayne D. Prindle of Delphi Falls (conservation biology), Willacker (environmental biology), Deborah L. Diehl of Rochester (forest health), Fox (natural history and interpretation), Elizabeth J. St. Pierre of Morrisville (wildlife science), Anne C. Davis of Lake Katrine (joint option in forest ecosystems science), Rachel K. Skvarch of Syracuse (forest resources management), Michael A. Holdsworth of Hyde Park (natural resources management), Dina A. Kpeglo of Syracuse(paper engineering), Joshua R. Sheldon or Red Creek (construction management) Zachary R. Walton of Walworth (wood products engineering), Chad A. Hastings of North Syracuse (environmental resources and forest engineering), Sean P. Skrip of Rochester (environmental science), Gary D. Bonomo of Liverpool (chemistry), and Jean B. Gleisner of LaFayette (landscape architecture).
Recent ESF News
News Archives
Communications & Marketing
SUNY-ESF
122 Bray Hall
1 Forestry Drive
Syracuse, NY 13210
315-470-6644