ESF Hosts Girls Inc. Summit
ESF Outreach & Girls Summit 2007

5/22/2007
Scores of girls came to the ESF campus to learn about building their skills and preparing for careers.
Nearly 100 girls from around Central New York gathered on the campus of the SUNY College of Environmental Science and Forestry (ESF) May 19 to learn about career options.
Girls Summit 2007 was a daylong event sponsored by Girls Inc. for girls in grades 5 through 10.
"We had great weather and we had great workshops," said Dawn Nier, program director for Girls Inc. in Syracuse. "We had some science, some math and some business."
The girls, who came from as far away as Utica, split up during the day to attend workshops. In addition to learning about science and environmental careers, they could choose to attend workshops that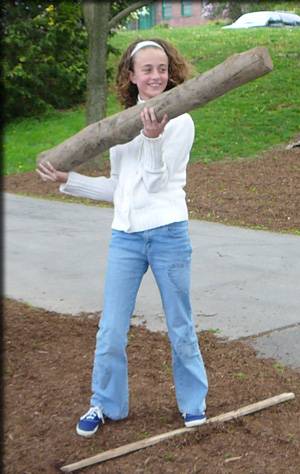 included communications skills with a psychologist, decision-making with a mentor who has worked with the federal courts, and editing skills with a woman who has published her own magazine. The girls participated in hands-on activities that included constructing a launch pad from toothpicks and gumdrops, and estimating the cost of painting a room.
The mentors ranged from professionals with years of experience to a teen-age writer.
Members of the ESF Woodsmen's Team held a workshop on logging skills and did a demonstration on the campus quad for the entire group. The girls got a chance to try sawing wood and participate in a pulp toss.
ESF students participated in several other roles, including acting as campus guides for the girls.
The event was hosted on campus by ESF Outreach.
Recent ESF News
News Archives
Communications & Marketing
SUNY-ESF
122 Bray Hall
1 Forestry Drive
Syracuse, NY 13210
315-470-6644