Moon Library Undergoes Major Renovation
Work to be completed in time for return of students in the fall

6/25/2007
A new Moon is rising on the ESF campus as the F. Franklin Moon Library undergoes an extreme makeover.
This is the first time the library has undergone any major changes since it opened in 1968. "The library was beginning to show its age," said Elizabeth Elkins, director of college libraries.
"We like to call Moon the academic living room of campus," said Elkins. The new design will enhance that reputation with new computer workstations, new tables and chairs that students can arrange to best suit their needs, and "living spaces" with comfortable chairs and couches.
"We're creating a number of little living rooms around the library," said Elkins
"Libraries today are much different than they were in the past," she said. They are no longer a place where people get "shushed" for talking or banished for having a beverage with them. Today's students gravitate to the library for research, group study sessions, tutoring, class projects and socializing.
The library's mission, vision and values statement focuses on providing a user-friendly environment, and Elkins noted this renovation fits those ideas as plans were made based on how students use the library.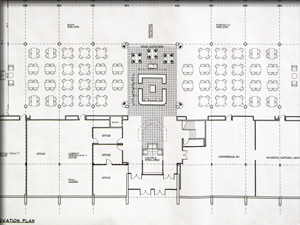 The project also falls in line with the college's commitment to sustainability. The furniture is being made by Artistry in Wood of East Syracuse, N.Y. The company follows green manufacturing practices such as using wood from managed timberlands, using machinery that reduces the amount of dust particulates released into the air, and working with vendors who also follow green manufacturing practices.
"It's going to be very comfortable and be very classy when it's completed," said Elkins.
The renovation is expected to be completed mid-August, just in time for the students' return.
Recent ESF News
News Archives
Communications & Marketing
SUNY-ESF
122 Bray Hall
1 Forestry Drive
Syracuse, NY 13210
315-470-6644