ESF Welcomes New Students
Freshmen move in

8/23/2007
The college experience officially began Wednesday, August 22, as 250 ESF freshmen arrived on campus and began settling into their new lives.
Sadler and Flint halls, both hosting two ESF learning communities, were especially busy as the students and their families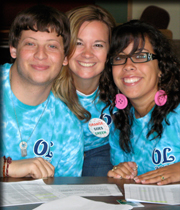 unloaded personal belongings and began the orientation process.
Orientation at ESF continues through the weekend with a range of activities: faculty and residence hall floor meetings, ESF Olympics, and an ice cream social.
One of the highlights of orientation is ESF's annual Saturday of Service, which will send nearly 300 students out to do community service in parks and public areas across Syracuse and Onondaga County.
"We are very excited about this program," said Leah Flynn, ESF's coordinator of student programs. "We believe it sets an example right away of how important public service and connecting with our community is to SUNY-ESF and how it has become incorporated into our campus culture."
Classes begin Monday, August 27.
Recent ESF News
News Archives
Communications & Marketing
SUNY-ESF
122 Bray Hall
1 Forestry Drive
Syracuse, NY 13210
315-470-6644