ESF Wows Fairgoers
Snakes, fizz and cold, cold ice cream

8/30/2007
The video originally included in this story is no longer available via this page. Contact web@esf.edu if more information is required.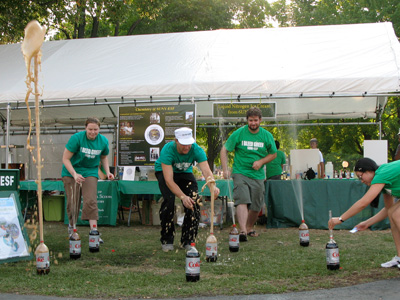 The Department of Chemistry ends its day at the fair with a bang and a fizz, setting off eight bottles of Diet Coke with Mentos.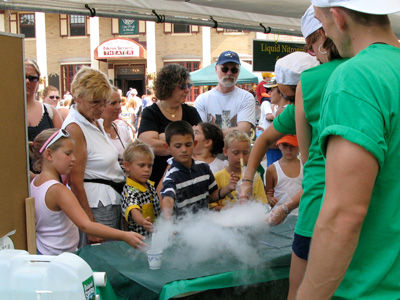 Chemistry is cool — or ice cold — as the chemistry department made liquid nitrogen ice cream at the state fair.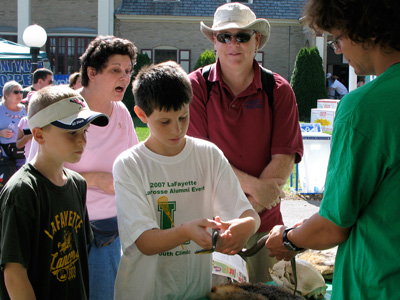 The snakes weren't on a plane, but they were at the ESF exhibit when the Department of Environmental and Forest Biology was at the fair.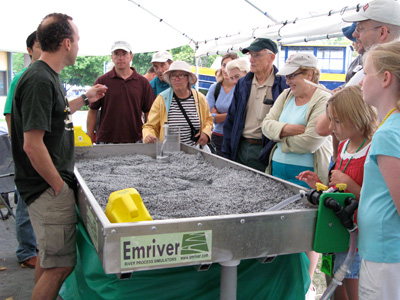 People flowed in and out to learn about river modeling with the Department of Environmental Resources and Forest Engineering.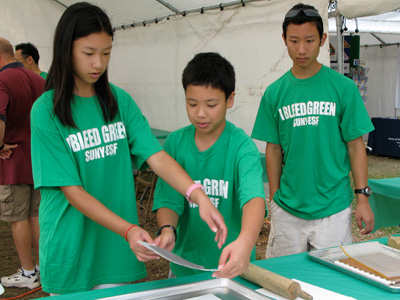 Paper Science and Biotechnology: the Next Generation. It's a family affair for PBE as faculty members get their kids into the act.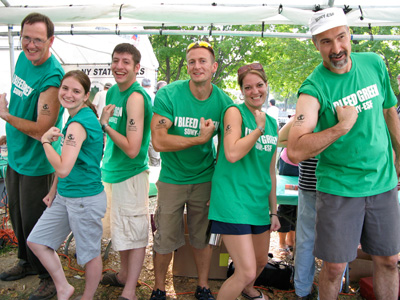 Students, faculty and staff sported some ESF ink during Chemistry Day at the state fair.
SYRACUSE, N.Y. — Making paper, sampling liquid nitrogen ice cream, designing a river, making a birdfeeder, and learning about the latest in the environmental sciences. These are just a few of the things visitors did at ESF's exhibit at the 2007 New York State Fair.
Here's the lineup ESF faculty, staff and students offered booth visitors this year:
Where in the World is ESF?
The Office of Research Programs highlighted research ESF is conducting around the globe.
A River Runs Through It
The Department of Environmental Resources and Forest Engineering gave fairgoers the opportunity to experience basic principles of river behavior via a hands-on demonstration.
From Molecules to Ecosystems
The Department of Environmental and Forest Biology had information, exhibits, hands-on materials and answers to fairgoers' questions on interest areas including biotechnology, aquatic and fisheries science, entomology, and invasive plant species.
Knock on Wood
Visitors learned the latest in the world of wood products engineering with the Department of Construction Management and Wood Products Engineering.
The Wonders of Chemistry
Kids learned the science behind liquid nitrogen ice cream or made slime with ESF's Department of Chemistry.
Make Your Own Paper
Young and old made paper by hand with ESF's Department of Bioprocess and Paper Engineering.
Forest for the Trees
Visitors learned about trees commonly found in New York State and about the Department of Forest and Natural Resources Management at ESF. Spruce and pine tree seedlings were made available along with planting information.
Nature Interpretation
Students from the Department of Environmental and Forest Biology provided hands-on activities to introduce and familiarize fairgoers with the natural world.
Environmentally Friendly Arts & Crafts
Kids enjoyed some environmentally themed activities, including pinecone birdfeeders and CD locker magnets.
Nature in Your Backyard
ESF's Science Corps demonstrated ecology in city and neighborhood environments.
ESF's exhibit was made possible through a cooperative agreement with New York State Office of Parks, Recreation and Historic Preservation.
The college also had an exhibit about its biomass research in the Horticulture Building.
Recent ESF News
News Archives
Communications & Marketing
SUNY-ESF
122 Bray Hall
1 Forestry Drive
Syracuse, NY 13210
315-470-6644