SHARE:
Researchers Ask: What Is Wilderness?
Study in the Adirondacks could shed light on perceptions

6/16/2011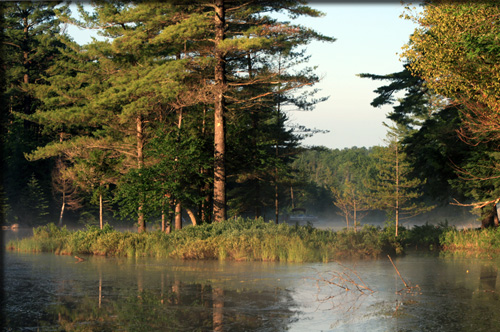 Wilderness is a fundamental characteristic of the Adirondack Park, which is the largest protected landscape in the contiguous United States and a classic example of wilderness conservation internationally. But what really is wilderness?
Working with AEC ecologist Dr. Colin Beier, I am keenly interested in the driving forces of wilderness perceptions and how they vary between stakeholder groups and geographic locations within the Adirondack Park.
The Adirondack Park consists of 17 wilderness units defined by the State Land Master Plan. These units protect important natural resources and ecosystems and attract a vibrant visitor base that supports local economies. However, wilderness protections can inhibit some forms of economic development desired by local residents.
My research investigated the significance of wilderness to different stakeholder groups within the Adirondacks; I did this by conducting a survey and translating the results using a geographic information system to create maps of perceived wilderness.
While based at the AEC, I collected 687 surveys at trailheads, boat launches, community events and town centers in Old Forge, Lake Placid, Lake George, and Newcomb during the summers of 2009 and 2010.
My goal was to compare the wilderness perceptions of residents, seasonal residents, and visitors. The survey asked respondents to rate the desirability of certain features, such as maintained campsites, roads, and evidence of human impact. Respondents were grouped into four categories - non-purist, neutralist, moderate purist, strong purist - on a scale that represents an increasingly strict perception of what is, and what is not, wilderness.
Results indicated that age, education and politics are important factors that explain how different people perceive wilderness in the Adirondack Park. The highest concentration of strong purists was in Newcomb and among seasonal residents, while residents were mostly non-purists.
To visualize wilderness for each group, a wilderness perception map was created, consisting of four layers, one for each of the four purism groups. Based on the 16 features in the survey, undesirable features were excluded or buffered out of the map for each purism group layer, creating a map of perceived wilderness and non-wilderness areas.
Wilderness perception maps will be used to compare differences among residents, seasonal residents and visitors; to compare responses from different regions in the park; and to compare the extent of perceived wilderness and the areas currently designated as wilderness to illustrate similarities and differences between perceptual and legal wilderness. These maps can serve as management tools by increasing our understanding of the public's perception of wilderness landscapes such as the Adirondacks.
By Abigail Larkin
Abigail Larkin is a master's student in the Department of Environmental and Forest Biology and can be reached at amlarkin@syr.edu.
Recent ESF News
News Archives
Communications & Marketing
SUNY-ESF
122 Bray Hall
1 Forestry Drive
Syracuse, NY 13210
315-470-6644