SHARE:
Mighty Oak Monday – Megan Cammett and Joe Perez


8/15/2022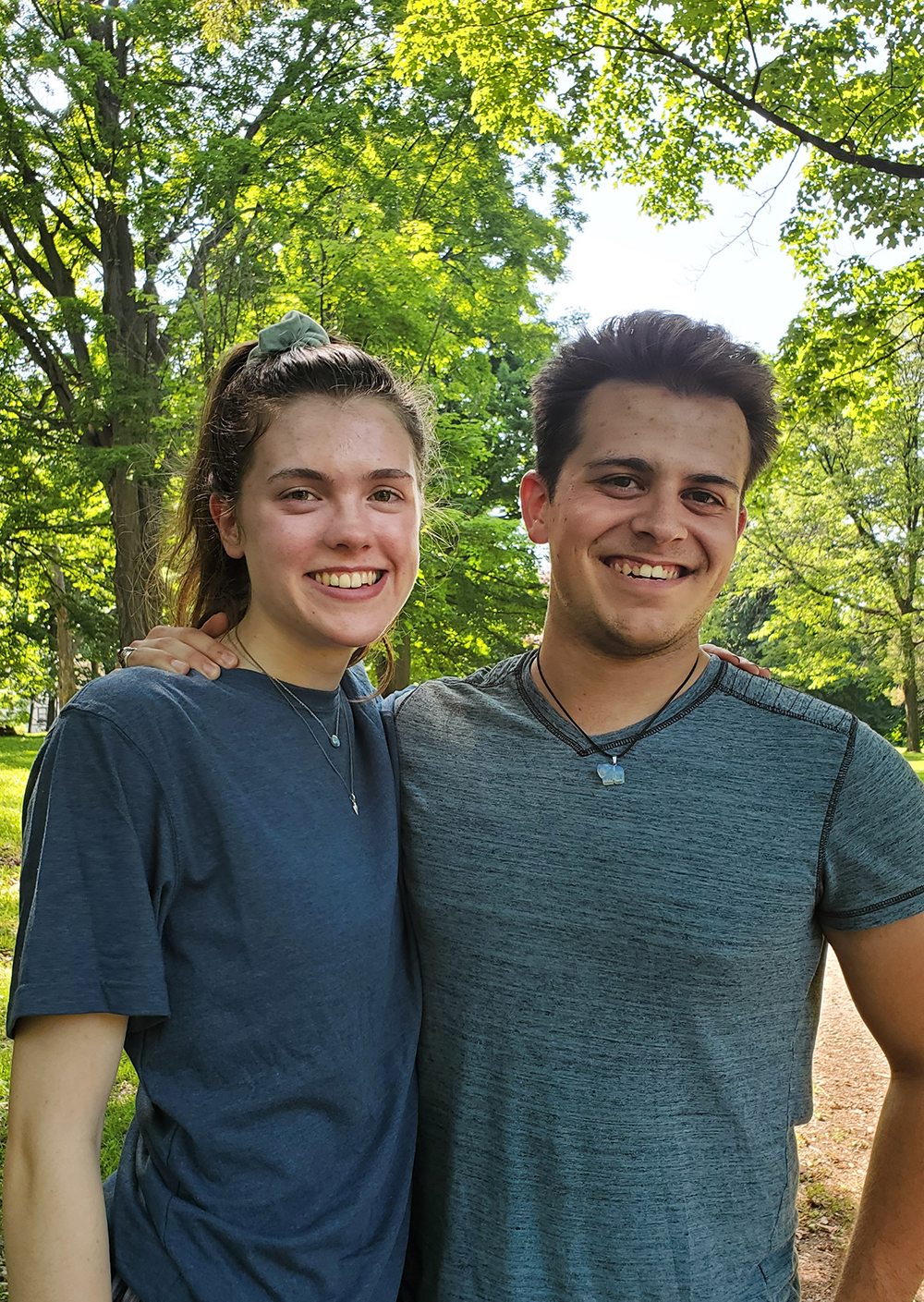 Megan Cammett, she/her
Major: Conservation Biology
Hometown: Rush, NY
Joe Perez, he/him
Major: Landscape Architecture
Hometown: Long Island, NY
Megan Cammett and Joe Perez are excited to be ESF's Head Orientation Leaders this year. With less than a week left until new-student move-in begins, we sat down with them to learn more about ESF's Orientation and the students who will be leading this year's Orientation Leaders.
Q: What can new students expect this year out of Orientation?
Megan: People can expect Orientation to be more what it used to look like before COVID. We are bringing back prominent first-year events, and everything will be in-person. New students will have a more extended time with their Orientation Leaders (OL) and small groups; allowing everyone to get to know each other, the ESF and SU campuses, and the surrounding area much better. We are trying to have the incoming class be as comfortable as possible and get the most out of their college experience with the transition.
Q: How did you two meet and come to be Orientation Leaders together?
Joe: We met as Orientation Leaders last year and struck up a friendship. We both expressed interest to one another back in September to be the Head Orientation Leaders (HOL) for the next Orientation. We began bouncing ideas off each other and after going through the application process, it was official! We both have had our hearts in this since we got the job and are so excited to see everything in action in just a couple weeks.

Q: What advice would you give to new students during Orientation?
Joe: College is a chance to start over and leave behind your past. No one knows you, so take advantage of that and be someone different. Just spread your wings and jump in.
Megan: Don't worry about finding your group of people during orientation week, there may be someone you meet a few weeks into the semester that will stick with you through a lot!
Q: What is your favorite part about being an ESF student?
Megan: Being surrounded by many people that share the same goals creates a great campus atmosphere.
Joe: This college is where I have gotten to find myself and be comfortable in my own skin. I never would have thought I'd be who I am today but am so thankful for the experiences this place has given me and the people I have met while being here.
Thank you, Megan and Joe for your service to ESF as Head Orientation Leaders.
View a schedule outline of Orientation on our New Student Website.