SHARE:
ESF Welcomes New Students to Campus for Fall 2022


8/24/2022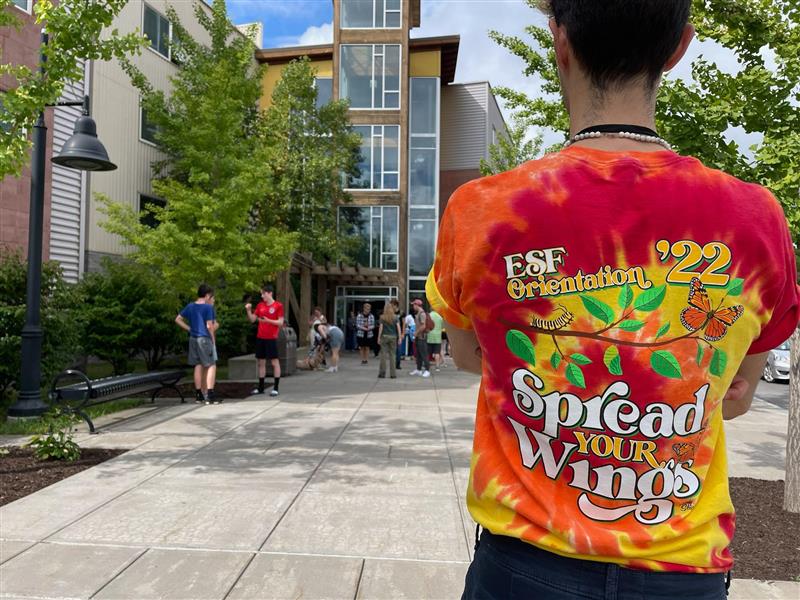 The SUNY College of Environmental Science and Forestry (ESF), the most distinguished institution in the nation that focuses on the study of the environment, welcomed 378 first-year students and 170 transfer students to campus this week.
"The beginning of the academic year is always exciting, and you can feel the energy on campus as our new students get settled in. We've been counting down the days to their arrival and are happy to welcome them to ESF," said ESF President Joanie Mahoney. "We look forward to watching our students learn, grow, and add their unique perspectives to finding solutions to the environmental problems of our time."
ESF received more than 2,400 first-year applications for Fall 2022 admission, which set a new College record. While most of this year's new incoming students represent 50 counties from across New York state, nearly a quarter are from 22 other states, as well as other countries.
The class of 2026 is participating in a week of orientation activities to help them acclimate to college life, including New Student Convocation; sessions on wellness, academics, diversity, and sustainability; activities and games; and a food truck rally. The week culminates with the College's traditional Saturday of Service on Aug. 28 when students engage in community service projects throughout the area. Community service is one of the hallmarks of the ESF student experience and helps new students make an early connection with Syracuse.
In Wanakena, N.Y., ESF's Ranger School welcomed 48 new students who are enrolled in one of the College's three associate in applied science programs. The Graduate School at ESF welcomed 96 new students who are pursuing their master's and doctoral degrees.
Classes begin at ESF's Syracuse campus on Monday, Aug. 29.
Recent ESF News
News Archives
Communications & Marketing
SUNY ESF
122 Bray Hall
1 Forestry Drive
Syracuse, NY 13210
Communications@esf.edu