SHARE:
Mural Created by ESF Alums Installed on Campus


8/25/2022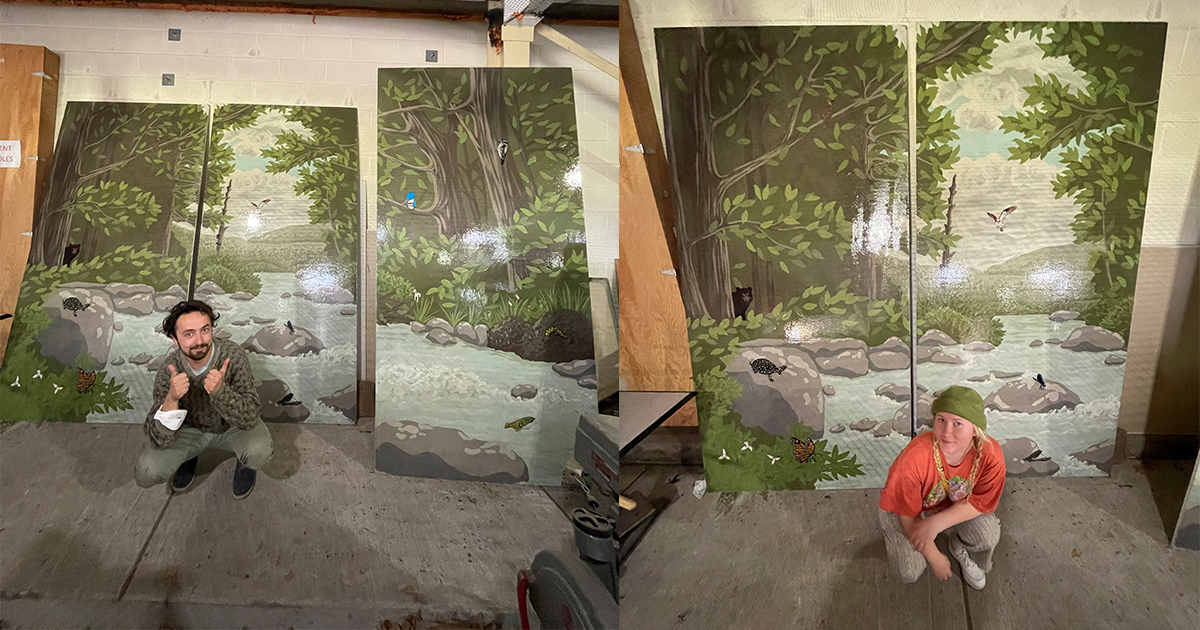 James DeRosa, '19 loves his work with the environment, but has a passion for art. When James came to ESF he wanted to join an art club, but found none. Eventually, he found a community of artists here and became a founding member of the sketching and drawing group in 2018. When the club leaders graduated that same year, James took charge. Under his leadership, the club decided to take on a mural project on campus. The only problem? They had no budget or official College resources.
They did some smaller designs and sketches to show campus administration. Eventually, connected with Gary Peden, a Campus Architect in ESF's Facilities Department for help with he project.
"He was instrumental in getting this project off the ground by providing materials and logistical support," James said.
With Gary's support, the project vision took shape: a three-panel mural that depicts a scene from Cranberry Lake. The idea was to bring a piece of one of ESF's North Country campuses to Syracuse. James and the other club membersbegan priming the panels and sketching the outline, but before he could make much headway, he graduated and returned home.
Enter Abby Flaitz, '20. She was in the art club with James and wanted to see the project to fruition. Taking James's sketches and unfinished panel outlines, Abby set to work. She completed the panel sketch and painted the entire background of the mural. Like James though, Abby would not be able to finish the project before leaving ESF.
By this time, James had moved back to Syracuse following his training for the New York Army National Guard. Together with his girlfriend Karleigh Cimorelli, '21, they added the plants and animals completing the mural as it now exists. This summer the Facilities team installed the mural in the walkway near the Northern Hardwood Forest.
Thank you to James, Abby and Karleigh for giving us this beautiful mural to adorn our campus.
James DeRosa and Karleigh Cimorelli are currently a National Park Rangers in Glacier National Park.
Abby Flates works on a Native Plant Nursery and does freelance botanical illustration on the side.
Keep up with all alumni like James, Abby, and Karleigh by joining the ESF Alumni Association.