SHARE:
SUNY-ESF Hosts Chinese Delegation
Climate change and energy to be focus of discussions

7/5/2011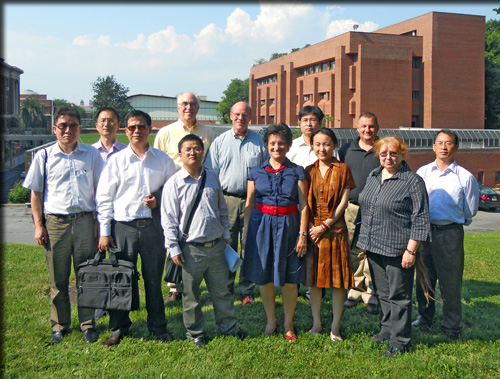 The SUNY College of Environmental Science and Forestry (ESF) will host a delegation of scientific and policy leaders from China July 6.
The visit is sponsored by the U.S. Department of State as part of its International Visitor Leadership Program. The focus of this visit will be climate change and energy. According to the U.S. Department of State, "As the world's second largest energy consumer and world's largest emitter of greenhouse gases, China's response to the challenges of climate change has important implications for global energy markets and efforts to combat global warming."
A number of ESF faculty will meet with the delegates to discuss topics including climate research, local energy efficiency initiatives, climate change impacts and strategies for adaptation and training for renewable energy jobs.
ESF faculty will also discuss their ongoing activities in the realm of climate change and energy. Participating ESF faculty include Dr. Neil Ringler, vice provost for research; Dr. Gary M. Scott, chair of the Department of Paper and Bioprocess Engineering (PBE); Dr. Thomas Amidon, director of the Empire State Paper Research Institute; Dr. David Sonnenfeld of the Department of Environmental Studies; Dr. Shijie Liu of PBE; Dr. Lee Newman of the Department of Environmental and Forest Biology; and Michael Kelleher, director of renewable energy systems at ESF.
Members of the Chinese delegation include Shixian Gao, assistant director general of the Energy Research Institute of National Development Reform Commission; Wenge Liu, director of the China Coal Information Institute State Administration of Work Safety; Zhigang Luo, a researcher with the Guangzhou Institute of Energy Conversion; Lingjuan Ma, vice secretary general of the Chinese Renewable Energy Industry Association; Jinzhao Wang, deputy division chief of the State Council Development Research Center; Guobin Zhang, senior engineer with the Forestry Carbon Sequestration Measurement and Monitoring Centre; and Hongtu Zhao, research professor with the Institute of World Economic Studies, China Institute of Contemporary International Relations.
Recent ESF News
News Archives
Communications & Marketing
SUNY-ESF
122 Bray Hall
1 Forestry Drive
Syracuse, NY 13210
315-470-6644