SHARE:
ESF Professor is Contributing Editor to Policy Journal
Social theory and environment focus of symposium

7/15/2011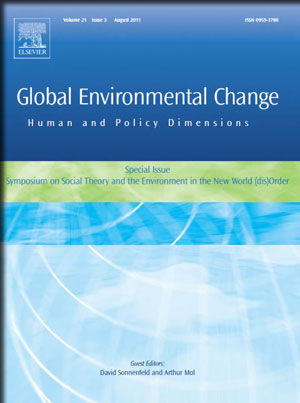 Dr. David A. Sonnenfeld, ESF professor of environmental studies, is contributing co-editor for a featured symposium on "Social Theory and the Environment in the New World (dis)Order" to be published in the August 2011 issue of Global Environmental Change: Human and Policy Dimensions.
Global Environmental Change: Human and Policy Dimensions is an internationally leading environmental policy journal.
Developed from papers presented at the XVII World Congress of Sociology in Gothenburg, Sweden, the collection includes analyses of the impact of global economic and political realignment on climate change negotiations, Also examined are China's economic ascent and Africa's environment, new frontiers of governance in biotechnology, alternative paradigms of global food governance, the usefulness of social theories of practice for the study of consumer behavior, and novel ways of envisioning cities as more sustainable ecosystems.
The symposium is co-edited by Arthur P.J. Mol of Wageningen University, the Netherlands.
Recent ESF News
News Archives
Communications & Marketing
SUNY-ESF
122 Bray Hall
1 Forestry Drive
Syracuse, NY 13210
315-470-6644