SHARE:
'Green Tie Dinner' Highlights ESF Centennial Celebration
July 28 events on campus mark College's first century

7/21/2011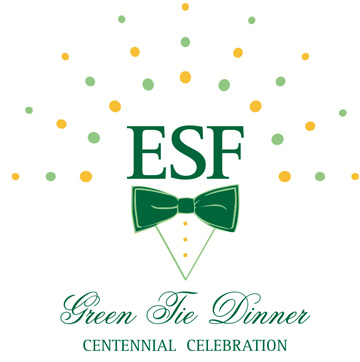 The SUNY College of Environmental Science and Forestry (ESF) will celebrate its Centennial July 28 with an afternoon picnic for members of the College community and a semi-formal "Green Tie Dinner" on the Quad in the evening.
Some 375 students, faculty and staff members, along with advisory board members and friends of the College, are expected to attend the afternoon event; more than 400 people, including alumni and donors, are expected for the dinner, making it the largest event of its type ever to be held on the ESF campus.
The picnic, which runs from 11:30 a.m. to 2:30 p.m., will include entertainment by Ranger School Professor Jamie Savage, an accomplished musician; and the first public showing of a video about the College's history.
The evening event, which begins with a cocktail hour at 6 p.m., was dubbed the "Green Tie Dinner" as a salute to the College's dedication to environmental stewardship. The dinner will be linked via a video feed with alumni Centennial celebrations in Boston, Saratoga and Scarsdale.
The program will include comments from SUNY Chancellor Nancy Zimpher and state Department of Environmental Conservation Commissioner Joe Martens, an ESF alumnus. It will also include the presentation of the Sol Feinstone Environmental Award to the Edna Bailey Sussman Foundation, which has supported ESF graduate students with more than $1.35 million in funding since 1985.
ESF President Cornelius B. Murphy, Jr., will present his vision about the future of ESF.
A dessert reception will conclude the evening.
ESF kicked off its yearlong Centennial Celebration in January with convocations at Lyman Hall on the Syracuse University campus, where the first ESF classes were held in 1911, and on the ESF campus. The final Centennial events will be in December, when the year concludes with the traditional December Convocation for students who are graduating in the middle of the academic year and the annual December Soiree.
ESF was founded as the New York State College of Forestry at Syracuse University in 1911 with three faculty members and 52 students. A year later, there were nine faculty members and 12 acres had been purchased adjacent to SU for a campus. ESF has since grown into the largest college in the nation devoted exclusively to the environment. It has a student body of about 2,300 undergraduate and graduate students and 25,000 acres of regional campuses and field stations in the Adirondacks, the Thousand Islands, Central New York and Costa Rica.