SHARE:
Confetti Flies for ESF's Centennial
Green Tie Dinner draws 450 to celebrate milestone in College history

7/29/2011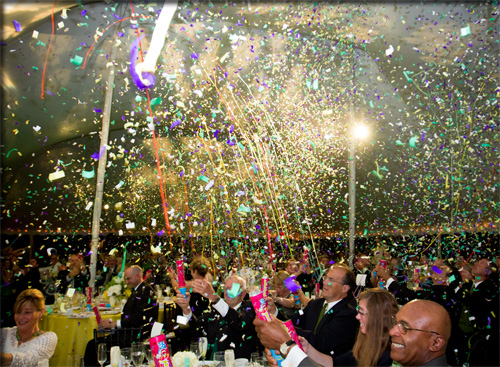 Under the gleaming white peaks of a tent that covered the Quad from north to south, more than 400 people gathered July 28 for the Green Tie Dinner to celebrate ESF's Centennial.
The celebration brought friends and alumni from near and far, some joining the celebration via an interactive video link that connected the campus with alumni gatherings in Scarsdale, N.Y. Saratoga, N.Y., and Boston. In Syracuse, guests in green ties, green dresses and even the occasional green blazer enjoyed cocktails on the Moon Library patio and then sat down to a beef tenderloin dinner.
The event was dubbed the Green Tie Dinner to salute the College's dedication to environmental stewardship.
SUNY Chancellor Nancy Zimpher, introduced by emcee Matt Mulcahy of CNYcentral television, kicked off the lineup of speakers, addressing the crowd with enthusiasm and citing the "Power of SUNY" to attract a sellout crowd to the dinner. She had praise for College President Cornelius B. "Neil" Murphy Jr.: "You know, if you were to think about leadership, you would think about a person with vision and passion; someone who understands what it means to include everybody — faculty, students, staff, alumni and friends — in moving this great institution forward; a person creative enough to find resources when very few resources exist; and a person who is a tireless spokesperson for ESF. That, of course, would be President Neil Murphy."
The program continued with the presentation of the 2011 Sol Feinstone Environmental Award to the Edna Bailey Sussman Fund, which has supported ESF graduate students with more than $1.35 million in funding since 1985.
The award is named after widely known historian and author Sol Feinstone, a 1915 graduate of the College. Feinstone created the awards program in 1976 to honor people who gave to others freely. The award was accepted by the fund trustees, Edward Miller and Robert Frey, ESF's former dean of instruction and graduate studies.
Murphy, sporting a light green bow tie and brimming with enthusiasm, presented his vision on the future of ESF and announced that the College's first comprehensive capital campaign has raised $11.5 toward its $20 million goal. The campaign is aimed at raising funds to support academic innovation, create bigger scholarships for students, add new flexible resources for the school and improve campus facilities. The campaign now enters the five-year public phase.
"Our future is bright and full of exciting opportunity," Murphy said. "At a time when this nation is struggling with environmental issues, ESF is there and will be there to try and come up with the answers and the solutions."
Applause broke out and some guests set off their party poppers a bit early, causing bits of colorful confetti to dance above the crowd as Murphy paused to watch the display with a smile. And when the premature popping of confetti stopped he said, "You folks were early! But that's okay. On the count of three, you can pop those poppers. Ready? One, two three! Happy Birthday, ESF!"
The dinner wrapped up with a centennial video, introduced by former College President Ross S. Whaley, featuring nostalgic photos and commentary from several members of the College community. A dessert reception concluded the evening.
ESF was founded as the New York State College of Forestry at Syracuse University in 1911 with only a dean, two faculty members and just over 50 students. ESF has since grown into the largest college in the nation devoted exclusively to the environment. With field stations in the Adirondacks, Central New York, the Thousand Islands and Costa Rica, ESF educates a student body of about 2,400.
By Joleene D. Des Rosiers