SHARE:
Record Freshman Class at ESF
College welcomes 312 first-year students and 173 transfers

8/25/2008
(Syracuse, N.Y.) - The SUNY College of Environmental Science and Forestry (ESF) welcomed a record freshman class of 312 and 173 new transfer students for the 2008-09 academic year with classes beginning today, August 25, 2008. There were 250 freshman and 184 transfer students at this time last year.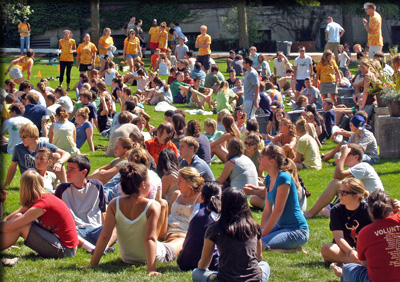 The freshman class includes students from 19 states and sets a record for ESF enrollment from out of state, with 21 percent of the class coming from outside New York. The class marks one of the highest percentages of out-of-state students in the 64-campus SUNY system.
ESF received a record 1,545 applications for the freshman class and accepted a record low 49 percent of those applicants. The college also received 643 applications for transfer admission and accepted only 41 percent of those applicants.
The academic quality of the entering class has also approached record levels this fall. Sixty-five percent of ESF's entering freshmen were ranked in the top quartile of their high school class, and 25 percent were ranked in the top tenth. The average high school GPA was 90.2%.
Recent ESF News
News Archives
Communications & Marketing
SUNY ESF
122 Bray Hall
1 Forestry Drive
Syracuse, NY 13210
Communications@esf.edu