SHARE:
ESF Police Assist NYPD After Irene
Three ESF officers on duty 24 hours in Manhattan

9/1/2011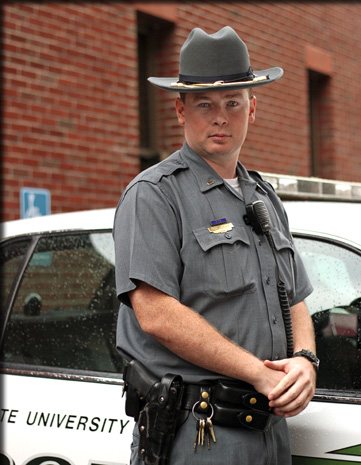 SUNY College of Environmental Science and Forestry (ESF) University Police officers were among 13 SUNY police units that responded to a call for law enforcement personnel to help New York City in the wake of Hurricane Irene.
The hurricane made landfall in the metropolitan area Aug. 27 and 28.
"Getting there turned out to be the most dangerous part of the deployment," said Lieutenant Robert Dugan of the ESF University Police, who made the trek along with Lieutenant Dan Webb and Officer Brian McGuire. They left Syracuse at 11:30 p.m. Saturday and headed for New York via Route 17, which meant they were traveling through the brunt of what had become Tropical Storm Irene.
Dugan said, "There were times it didn't matter how fast the windshield wipers went, you couldn't see. You could hydroplane in a second (even in an 4-wheel drive SUV) and there were tree limbs all over the roadway. It was all rain, beyond rain, it was like massive bodies of water falling out of the sky. It was incredible."
But the weather was much better once the officers connected with the National Guard at the Manhattan Armory at 26th Street and Lexington Avenue, where ESF personnel were paired up with Guard EMTs and dispatched to fire stations first in Manhattan and then the Howard Beach neighborhood in Queens.
"We were there to get them from point A to point B as quickly as possible, since National Guard Humvees aren't equipped with sirens and lights," explained Dugan. He said emergency calls that would have taken as much as 45 minutes were reduced to 15 to 20 minutes.
Fortunately, said Dugan, the most serious call they responded to was a residential natural gas leak that was quickly resolved.
ESF University Police Chief Scott Becksted praised the officers and called it, "A great opportunity for the ESF officers and the 38 other SUNY police officers from 13 SUNY schools to use the skillset they've developed through years of training and experience."
Becksted said, "It's also a chance to get off campus and work with agencies and emergency responders they don't interact with on a regular basis, a real-life test of how quickly can we pull assets together, travel to a distant location and organize to be a real help to citizens in need."
The ESF University Police Department is primarily responsible for the safety and security of the ESF college community and campus properties. The department has the same authority to enforce the law as any other police agency in the state.