SHARE:
'Derecho' Marks Labor Day 1998
Line of violent storms took down trees, damaged greenhouses

9/6/2011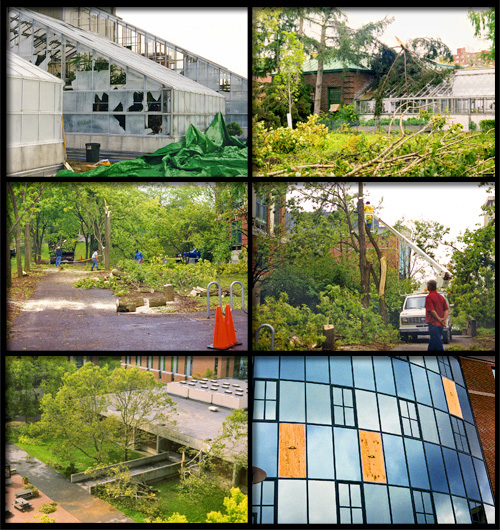 When Labor Day weekend was over in 1998, the ESF campus was littered with trees, branches and broken glass after a violent storm swept across Central New York.
The U.S. Weather Service called the storm a derecho, a squall line of thunderstorms loaded with damaging straight winds. The storm blew through Syracuse early in the morning of Monday, Sept. 7, with gusts of up to 115 mph.
Windows in the greenhouses atop Illick Hall were shattered, all the academic buildings had roof damage and several lost windows. The College lost nearly two dozen trees on the main campus and 60 more at the Lafayette Road Experiment Station.
ESF was one of a handful of locations in Syracuse that did not lose power so repair and cleanup efforts began immediately. Students pitched in, too, with about 25 arriving on campus by the middle of the next day to help remove debris from campus.
Recent ESF News
News Archives
Communications & Marketing
SUNY ESF
122 Bray Hall
1 Forestry Drive
Syracuse, NY 13210
Communications@esf.edu