SHARE:
ESF Students Volunteer in Hurricane Relief Efforts
Community serivce includes cleanup work, donation drive

9/16/2011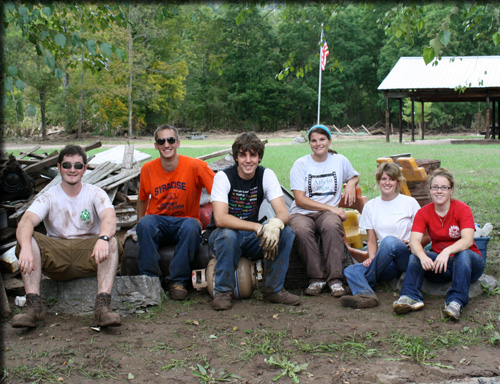 Members of the ESF College community have responded to the devastation of Hurricane Irene by assisting with cleanup efforts in several locations and conducting a donation drive to help hurricane victims rebuild their lives.
Twenty Ranger School students and three faculty members went to the hard-hit Keene area in the Adirondacks' High Peaks region, where they rebuilt a footbridge and removed debris in several areas.
Professor Jamie Savage, who made the trip Sept. 10, said some of the volunteers worked with state Department of Environmental Conservation staff members to rebuild a footbridge in Keene. The bridge is part of a popular hiking trail, used by both visitors and local residents, that leads to Hurricane Mountain and the peaks called the Crows.
"They didn't even find the bridge," Savage said. "It was just gone. It was about 20 feet long and four or five feet wide. It wasn't just a couple of logs."
Part of the goal, he said, was to make the repairs in time for the economically important fall foliage season.
While one group was working on the bridge, Savage and another group of students worked in the community of Ausable Forks, helping a family that operates a farm and a veterinary clinic clean out after the flood. He said they tore damaged sheet rock and flooring out of the farmhouse that was badly damaged by the rising waters of the Ausable River. They also removed debris from a tree that fell in the town.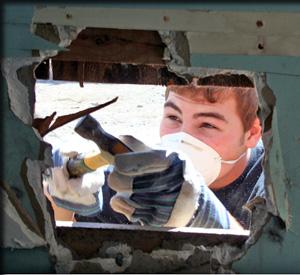 A third Ranger School group worked in Ausable Forks to help local families remove damaged goods from their homes.
"They went to one home where all sorts of debris had washed up on the property," Savage said. "There were docks, chairs, all sorts of stuff that one person can't move alone."
The same day that the Ranger School students were working in the Adirondacks, a group of students from the main ESF campus were volunteering their time in the Catskills region. Robert Miller, a senior chemistry major from Margaretville, which was damaged by the flooding East Branch of the Delaware River, worked with friends to pick up debris in a park in the community of Arkville.
Miller said Margaretville and bordering Arkville are in the New York City watershed so the city Department of Environmental Protection (DEP) was working on flood relief. The students spent the day piling up debris in the park so the DEP workers could collect it faster and move on to helping local families.
The following day, the students worked on Main Street in Margaretville, where several businesses, including a pharmacy owned by Miller's father, had been badly flooded.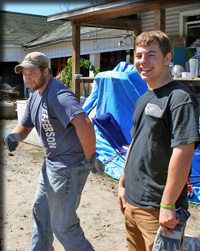 "We went down because I live there and they still need help," Miller said. "They needed people to go in and work and a few of us were interested in seeing what the devastation was like."
Another ESF student, senior environmental science major Victoria Reinhart, has organized a Hurricane Irene Relief Drive to collect non-perishable food, clothing, and cleaning and school supplies. Reinhart is targeting her efforts toward Schoharie, Greene and Delaware counties, where she grew up. She has set up a donation site in the foyer of Moon Library where members of the campus community can leave any items they wish to donate. She is delivering them periodically with the help of friends.
"I have roots there," Reinhart said. "Instead of sitting around, all I wanted to do was help and this was the only way I knew how, other than taking a semester off from school and going down there."
Ranger School students participating in the community service project were Joe Rimbeck, Andrew Norton, Nick Bates, Lowell Chamberlin, Conor Quinlan, Rachel Hillegas, Mike Miecznikowski, Chrissy Macholl, Claire Radford, Stephanie Teeter, Matt Losey, Meaghan Losey, Jon Slate, Joe Natalizia, Josh Kelley, Kramer Kwaczala, Nate Cummings, Tim Roden, Caleb Hall, Lincoln Hanno and Kyle Schnepf. In addition to Savage, faculty members who made the trip were Ramana Callan and Tim O'Mara.
Students from the main campus who worked in the Catskills, in addition to Miller, were Jason Kucharski, Dean Wellington, Kelly Long and Julia Brophy. They were joined by Caitlyn Roberts from SUNY Oneonta.
Recent ESF News
News Archives
Communications & Marketing
SUNY-ESF
122 Bray Hall
1 Forestry Drive
Syracuse, NY 13210
315-470-6644