SHARE:
'What a Great Tradition'
Alumni and studentsí family members gather on campus for the annual Fall Barbecue.

10/14/2008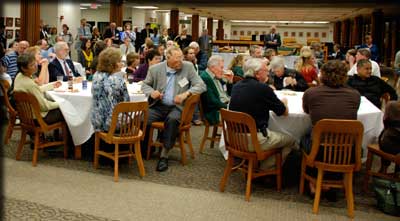 Visitors to campus listen to a presentation in Moon Library.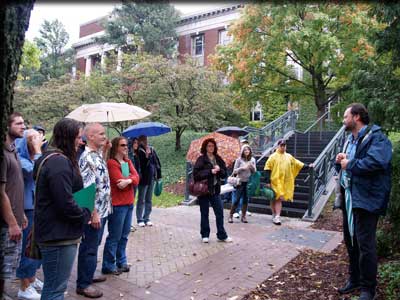 ESF's Dr. Donald Leopold, right, talks with campus visitors about the trees that grace the campus.
The 2008 Alumni and Family Fall BBQ had something for every member of the ESF community. Even a little rain didn't stop visitors from participating in the many activities planned for the weekend.
An activities fair in Moon Library promoted upcoming events for students. The Undergraduate Student Association promoted its winter weekend, TG's with Friday pizza dinners, and Morning Munches, where students and faculty can mingle.
"We hope we can attract more students today and show the alumni all the progress that student activities has made," said Cariann Quick ES '10, president of the Undergraduate Student Association.
The Baobab Society, which promotes diversity at ESF, was on hand to welcome diverse alumni and students to campus and introduce them to their club, said Shavaun Jenkins EFB '09, president of the Baobab Society.
The Woodsmen Team held a demonstration at Hendricks Field, drawing a crowd of about 50, who cheered the team on as they demonstrated a firebuild and a women's cross cut, among other activities.
"It's great to have alumni back with us today. We like to show them that our team can make them proud and keep up the tradition," said team member Trevor Diefendorf, FNRM '09.
The student team then stepped back and let its visiting alumni take over the demonstrations. Alumni Gerry Reymore BS '82, Jill Reymore BS '84, and Gail Mortimer BS '83 stole the show, demonstrating a two-person cross-cut and bow saw to a crowd of onlookers.
"Even if we haven't been on the team for a long time, like the kids today we played hard, practiced hard and were undefeated, and were still a family because of it," says Jill Reymore, who met her husband on the Woodsmen's Team. The couple's daughter, Megan, is a freshman landscape architecture student at ESF.
Visitors also joined students for tours of the campus, Moon library and nearby forests. Alumni and parents were introduced to some of ESF's unique sites, including the Roosevelt Wildlife Collection, which includes a mounted lion, and the college greenhouses on the roof of Illick Hall.
"Alumni and parents don't have many excuses to return here," Mortimer said. "I've had some of my fondest memories here. What a great tradition fall barbeque is."
- By Amity Paye
Recent ESF News
News Archives
Communications & Marketing
SUNY ESF
122 Bray Hall
1 Forestry Drive
Syracuse, NY 13210
Communications@esf.edu