SHARE:
Be Prepared
Boy Scouts come to ESF to work on merit badges

10/11/2011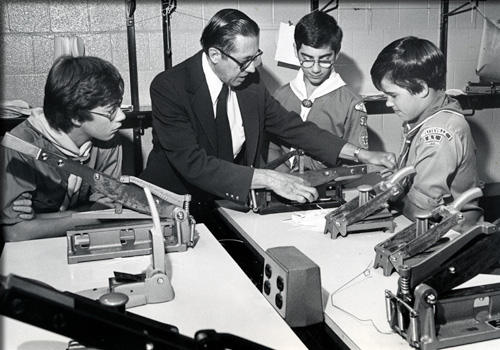 Dr. Theodore J. Stenuf, professor of paper science and engineering, established the Pulp and Paper Merit Badge in 1974. The former Scoutmaster also wrote the merit badge pamphlet the Scouts use to obtain the badge. Stenuf often toured Scouts through the department, showing them papermaking procedures.
ESF is still helping Scouts earn not only the Pulp and Paper merit badge, but also 16 other badges including Citizenship in the Nation, Computers, Engineering, Oceanography and Electronics.
IN the spring members of Alpha Phi Omega's Phi Chapter help Scouts from the Longhouse Council of the Boy Scouts of America, headquartered in Syracuse, take courses toward their merit badges.
Alpha Phi Omega is a national co-ed service fraternity. It is the single most representative undergraduate intercollegiate organization in the United States. For more than 80 years, it has set the standard for college campus-based volunteerism. Phi Chapter was chartered on the campuses of ESF and SU in 1931.
Recent ESF News
News Archives
Communications & Marketing
SUNY ESF
122 Bray Hall
1 Forestry Drive
Syracuse, NY 13210
Communications@esf.edu