SHARE:
ESF Graduate Student Helps Give Dogs a Second Chance
Dog running program reduces time spent in shelter

10/14/2011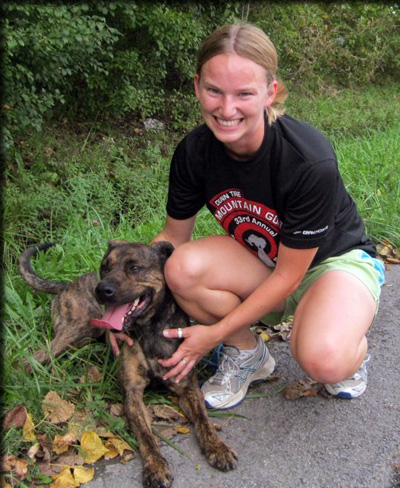 Stephanie Figary's running partner has all the qualities of a great training companion: boundless energy, endurance - and four legs.
Figary's partner is Kara, a three-year-old hound mix at the Central New York Society for the Prevention of Cruelty to Animals. They began their friendship after Figary, an environmental and forest biology graduate student, started the Paws in Motion program. The program, which connects local student and resident runners with energetic dogs at the shelter, was launched in April after Figary read about a similar program in Runner's World magazine.
The program has grown from the original group of about 10 ESF student volunteers to a group of more than 40 student volunteers from local colleges, as well as residents, said Figary.
The dogs have excess energy from being kept in a cage for days and that can scare potential adopters away, she said.
"Kara can run for a good five miles and still have energy, so if you think of a dog like that sitting in a kennel for a week or two, she's just going to be pop-corning up and down trying to get your attention," said Figary.
Most of the dogs remain energetic after being taken out of their cages but usually calm down after half a mile of running, Figary said.
Although she is graduating this summer, Figary said she hopes to see the program continue to grow after she leaves.
"It's fun," said Figary. "It's a great thing to get going and there's been lot of positive response."
Figary said she hopes to see every dog at the shelter outside every day, a big improvement from before the program started when the dogs usually got out once a week at the most.
Tiffany Dellaventura said she became involved after learning about the program through ESF volunteer opportunities.
"I love dogs and have always wanted to work at an animal shelter. I miss my two dogs at home very much and thought this would help me be able to play and interact with animals again," said Dellaventura, a junior conservation biology major.
She said this type of program is important because of the overwhelming number of dogs that need good homes. Like Figary, she said the excess energy can put off prospective adopters.
"When people come to visit the dogs they see them in a different state - they are full of energy, barking, and could be a little intimidating," said Dellaventura. "Running with the dogs allows them to get the exercise they need and gives people opportunities to see the great dogs they really are, not the ones who are itching to get out of their cages."
While Paws In Motion helps the dogs, there are also benefits for the volunteers, she said, such as learning how shelters are run and seeing the reality of how many pets need homes.
"I think the volunteers after helping will feel good about their decision to work at the animal shelter," said Dellaventura. "Even if it helps only a few dogs, those dogs are hopefully in a better place and we helped them get there."
- By Jessica Lynn Siart, ES '12