SHARE:
Campout on the Quad for Ecuador
Conservation Biology club spends the night on campus to raise money for trip

10/14/2011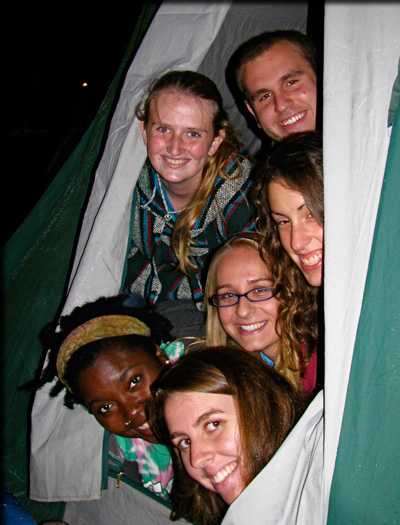 Members of the ESF Conservation Biology Club camped out on the Quad Thursday, Oct. 13, to raise money for a trip to South America this winter, when they will travel to Ecuador to build a computer center.
The students who camped out asked professors, friends and family to sponsor them to help offset the cost of transportation.
"The staff has really been awesome," said Gena Morgis, a sophomore landscape architecture major. "They've just been so supportive and welcomed us with open arms."
Morgis said 20 to 25 people are going on the trip in mid-December and 15 members participated in the campout.
After working in Ecuador, the group will go to the Galapagos and teach farmers about natural pesticides and composting, Morgis added.
Carrie Curry, a freshmen environmental biology major, said she was impressed with how supportive the staff has been, especially since she doesn't know many of them well.
"I'm really excited for it," she said. "I thought this was a really cool opportunity to camp out on the Quad for a fundraiser."
Alaina Henson, a freshman environmental science major, has already been to Ecuador for a family wedding and said she is eager to help the impoverished areas of the country.
"I stayed in Quito, which is the capital so there's a lot less poverty in that area," she said. "You start to see it more when you branch out."
The club's yearly trips focus on conservation education said Ashley Campbell, a junior conservation biology major and vice president of the club. She said the group engages in a variety of activities including reforestation, invasive species control, mammal and vertebrate interactions and teaching students.
"Every year we do some gritty work, some building and some stuff related to conservation," said Campbell.
Campbell said the group has already raised more than $1,000 in the past week, and added if the campout proves successful, the club will fundraise on the quad again next year.
The club has a history of helping in Central and South America and the islands, said Ryan Roberts, a senior conservation biology major and president of the club. In the past three years the group has built eco-efficient stoves in the Dominican Republic, bus stops in Costa Rica to promote eco-tourism and water retention tanks in Ecuador, said Roberts. The group will return to the same community as last year because the students felt a special bond with them he said.
"We got really close to the community and that's why were heading back there this year," he said. "We kind of have families there. "
- by Jessica Lynn Siart, ES '12
Recent ESF News
News Archives
Communications & Marketing
SUNY-ESF
122 Bray Hall
1 Forestry Drive
Syracuse, NY 13210
315-470-6644