SHARE:
SUNY-ESF Incentivizes Green Transportation
College designates parking spots for environmentally friendly vehicles

10/14/2011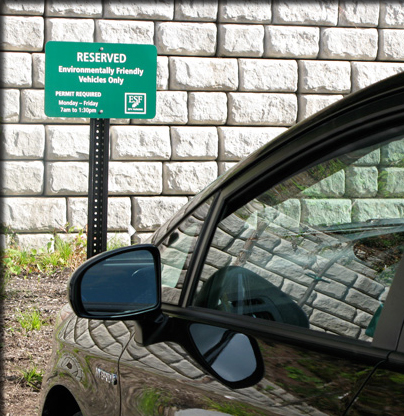 The SUNY College of Environmental Science and Forestry (ESF) is setting aside reserved parking spaces to promote carpooling and the use of more energy-efficient vehicles by faculty and staff.
"SUNY-ESF has instituted a new environmentally friendly transportation policy to encourage and support more environmentally, socially and economically sustainable forms of transportation. The policy goes into effect on Nov. 1," said Joseph Rufo, vice president for administration.
Rufo continued, "Conservation of natural resources is one of the easiest paths you can take to promote sustainability. One of the easiest ways to get people to buy into the program is to offer an incentive and one of the cherished possessions on a college campus is a parking space."
Nine reserved parking spaces have been set up in lot P-1 east of Bray Hall. Three spaces are reserved for carpoolers and six spaces for those people driving environmentally friendly vehicles.
A special hanging tag will be issued to each identified group of carpoolers who meet the necessary criteria, which includes having at least two people in the car; the distance driven to the main campus must be over 1.5 miles.
Environmentally friendly vehicles will be identified by consulting the U.S Environmental Protection Agency's green vehicles website. Qualifying vehicles must attain a score of nine or better on both Greenhouse Gas and Air Pollution.
ESF has also encouraged more people to bicycle to and from campus by substantially increasing the number of storage racks and installing a bike repair station with tools and an air pump.