SHARE:
Home Away From Home
Residence halls provide creature comforts

10/17/2011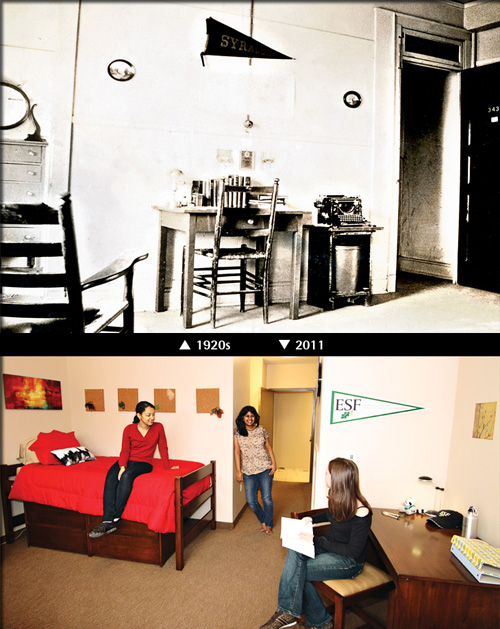 Students have made their dorm rooms a home away from home for years bringing decorations, photos and other reflections of their interests to their living spaces.
Prior to 2011, ESF students who wanted to live on campus resided in dormitories on the Syracuse University campus. Pictured is a dorm room from the 1920s.
Today ESF students call Centennial Hall home. The building, which opened in August 2011, marks the first time that ESF students live in their own residence hall on campus. Centennial Hall houses 452 students. Freshmen live in two-person shared rooms with private baths and upper classmen can choose either private or semi-private suites or apartments.
The $30 million residence hall, constructed by the ESF College Foundation, Inc., was built to be an environmentally friendly Leadership in Energy and Environmental Design (LEED)-certified building. Its impact on the environment is reduced by the use of storm water management techniques, sustainable building materials where possible, landscaping that includes native plants and a limited need to mow, extensive indoor storage and cleaning facilities for bicycles, and a pedestrian-friendly design.
Recent ESF News
News Archives
Communications & Marketing
SUNY ESF
122 Bray Hall
1 Forestry Drive
Syracuse, NY 13210
Communications@esf.edu