SHARE:
ESF Partners in Hill Collaboration on Environmental Medicine
Research to focus on cancer, diabetes, nervous system disorders and ties to environment

10/18/2011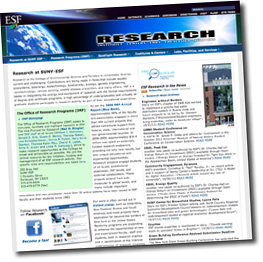 The SUNY College of Environmental Science and Forestry (ESF) is a partner in the newly established Hill Collaboration on Environmental Medicine, which was designed to stimulate research in the areas of cancer, diabetes and disorders of the nervous system and their relationship to the environment.
Funded by a total of $60,000 in contributions from the partner institutions and the SUNY Research Foundation, the Hill Collaboration will focus on developing collaborations among faculty members and researchers from the member institutions. In addition to ESF, the Hill Collaboration includes SUNY Upstate Medical University (UMU), Syracuse University and the Central New York Reserach Corporation, a non-profit affiliate of the Syracuse Veterans Administration Medical Center.
"This is a phenomenal opportunity to stimulate successful research that ties medical solutions to environmental and ecological factors," said Dr. Neil Ringler, ESF vice provost of research.
Ringler said the proximity of ESF, UMU, SU, and the Veterans Administration Hospital, and the combined abilities of the staff members at the four institutions, is unique in the country.
"ESF is strongly positioned with its faculty and doctoral programs to offer major contributions to research, and to help win new funding at the national level, particularly from the National Institutes of Health," Ringler said. "The new collaboration will provide not only solutions for citizens of NY state but also potentially answers to national and global medical challenges."
Research funded by the Hill Collaboration will focus on advances in science, collaborative publications and projects that draw from the array of academic disciplines and diverse expertise in the universities and hospitals on Syracuse's University Hill.
The collaboration was formed under the guidance of Ringler from ESF; Dr. Steven R. Goodman, vice president for research and dean of the College of Graduate Studies at UMU; Dr. Gina Lee-Glauser, vice president for research at Syracuse University; and Dr. Kristopher Maier, interim associate chief of staff for research and development.
Dr. John Hassett of ESF's Department of Chemistry, is co-leader of the cancer focus group.
Establishment of the Hill Collaboration was announced Tuesday, Oct. 18.
Recent ESF News
News Archives
Communications & Marketing
SUNY-ESF
122 Bray Hall
1 Forestry Drive
Syracuse, NY 13210
315-470-6644