SHARE:
CNY Naturally Chilled Water Project Charts Its Progress
The depths of Lake Ontario could supply a natural coolant for buildings in Central New York.

10/16/2008
The video originally included in this story is no longer available via this page. Contact web@esf.edu if more information is required.
Copyright © All Rights Reserved by copyright holder
SYRACUSE — Cold, clean water from Lake Ontario has the potential to act as a natural coolant for buildings in Syracuse while reducing emissions of greenhouse gasses, substantially cutting energy costs, and aiding in the restoration of Onondaga Lake, a team of scientists said today.
During an event held today (October 16, 2008) on the shores of Onondaga Lake, researchers from the SUNY College of Environmental Science and Forestry (ESF) and their partners updated Congressman James T. Walsh (NY - 25) on the Central New York Naturally Chilled Water Project. Walsh appropriated $1.5 million in funding for the feasibility study, which would develop an innovative, alternative cooling system that could be used as far away as Syracuse, some 30 miles south of Lake Ontario.
The environmentally friendly undertaking would pipe water from deep in Lake Ontario into Onondaga and Oswego counties. The lake water would provide a greenhouse gas-free cooling source that would reduce emissions and cut the amount of fossil fuels used to power mechanical chillers and coolers in regional private and public buildings. After being used, the oxygen-rich water would flow back through Onondaga Lake and then return to Lake Ontario, closing the loop on the system.
Not only does the project stand to provide natural cooling to CNY buildings, but the water, when deposited in Onondaga Lake, can aid in the lake cleanup. The water entering Onondaga Lake would be approximately 52 degrees, which is cooler than Onondaga Lake in the summer. This cooler, oxygen-rich water will help reduce mercury and other toxins, add oxygen naturally and enhance aquatic fisheries.
Since the feasibility study team began work in July, the group members have:
Completed a draft of a comprehensive background report, summarizing the elements of a large-scale district cooling system and the history and current status of existing cooling systems in North America.

Worked on developing a profile assessing the area's energy demands and resources.

Begun to evaluate the potential applications and benefits of a large-scale municipal cooling project in Central New York.
"Congressman Walsh had extraordinary vision as to how to bring more water from Lake Ontario and use the water to create economic development and renewable energy options for Onondaga County," said ESF President Cornelius B. Murphy, Jr.
"This project provides significant economic and environmental benefits for our community," said Rep. Jim Walsh (NY-25). "By tapping cold, fresh water from Lake Ontario, running it through chillers to cool indoor air for Downtown Syracuse or University Hill, and returning that oxygenated water back to the lake system untouched, we improve Onondaga Lake's water quality, create low cost, environmentally friendly chilled air, and reduce our region's reliance on fossil fuels."
The college is partnering with Onondaga County and the county's Metropolitan Water Board on the project. Also collaborating are Stearns and Wheler, Upstate Freshwater Institute, Syracuse Regional Planning and Development Board, Exponent, Gryphon International Engineers, Ecologic, and Hiscock and Barclay, LLP.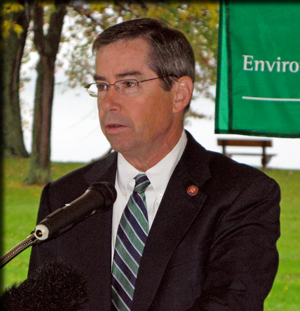 "The college is pleased to coordinate and implement this study to evaluate the economic and environmental benefits associated with the concept," said Murphy.
"This is a great project for Onondaga County that will enhance our efforts to make our community greener and more sustainable," County Executive Joanie Mahoney said. "We are grateful to Congressman Walsh for making this project a priority and for securing $1.5 million to fund it."
"We thank Congressman Walsh for the opportunity to pursue the greenest of all local green projects. Success will require an unprecedented degree of interaction and cooperation between the public and private sectors, but I believe we are up to that challenge," said Ferdinand L. Picardi, Chairman, Metropolitan Water Board, Onondaga County Water District.
Recent ESF News
News Archives
Communications & Marketing
SUNY ESF
122 Bray Hall
1 Forestry Drive
Syracuse, NY 13210
Communications@esf.edu