SHARE:
All The News That's Fit To Print
Student publications chronicle college's history through the decades

10/21/2011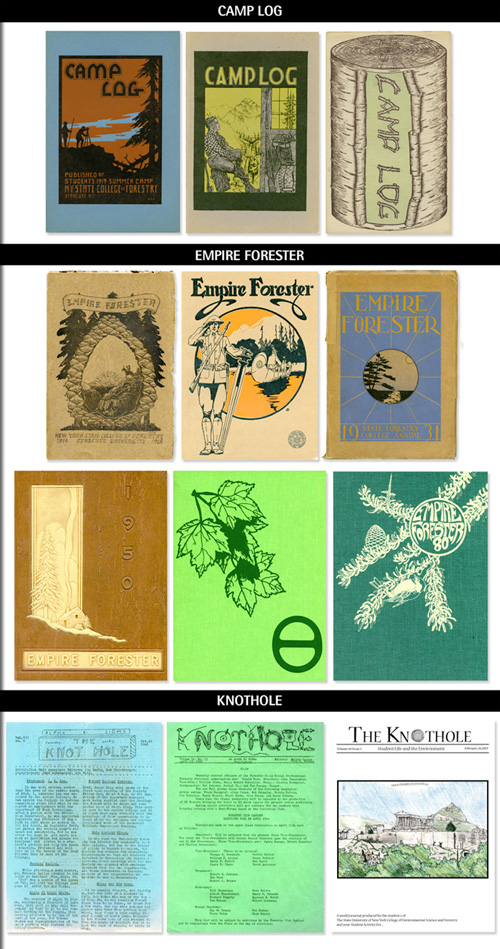 Various student publications have kept careful track of campus happenings through the years. In the yearbook, camp log or college newspaper students have written and and created drawings about the people, events and news of the day as it affected life in Syracuse.
The yearbook, the Empire Forester, was first published in 1915. Early editions featured articles about campus clubs and research, drawings and poems, and photos capturing images of the time.
The Knothole, the official student newspaper, first hit the presses in 1938 and was sponsored by Alpha Xi Sigma. For much of its existence, The Knothole was simply typed and copied on 8.5 x 11 paper. Today, it's delivered to campus on newsprint, is available online and boasts its own Facebook page.
The Camp Log chronicled the happenings at Summer Camp, which provided students with the opportunity to do field work and hone the skills they had learned in the classroom. The Camp Log featured anecdotes of the summer's activities, many inside jokes and articles on research the students and faculty conducted during this time.
While The Camp Log no longer exists, the Empire Forester and The Knothole continue to reflect what students are doing and what is important to ESFers.
Recent ESF News
News Archives
Communications & Marketing
SUNY ESF
122 Bray Hall
1 Forestry Drive
Syracuse, NY 13210
Communications@esf.edu