SHARE:
Students Celebrate Centennial and Fall at Festival
Organizations host activities, Centennial Hunt

10/21/2011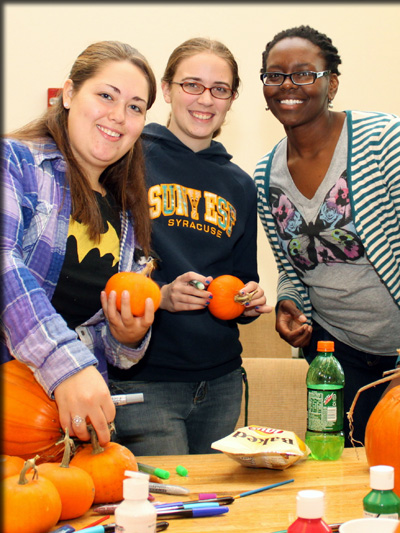 The ESF community came together to celebrate the college's history, as well as the fall season, at the Centennial Harvest Festival Wednesday Oct. 19 in Nifkin Lounge.
"This event is put on by the Centennial Committee," said Alex Bishop, a senior environmental resources engineering major and committee member. "This event was to get students involved with the Centennial celebration because most of the students weren't on campus for the actual event in July."
Several student organizations hosted activities at the festival, which also included raffles throughout the day, gourmet cupcakes from Nonpareils Bakery in Manlius, and a Centennial Hunt. Alpha Xi Sigma Honor Society set up a cookie-decorating station, while the Green Construction Group made bottle openers and showcased a replica of a shed the group built. Engineers Without Boarders gave away pint glasses, while members of the yearbook staff sponsored a Centennial-themed photo booth. And of course, no ESF event would be complete with out a tie-dye station, set up by the Student Environmental Education Coalition.
More than 50 students participated in the Centennial Hunt said Liz Mix, ESF's Community Service and Service-Learning Coordinator. The Centennial Committee used information gathered by the Onondaga Historical Association to compile some of the clues included in the hunt, said Mix.
"We tied in something from each building," said Mix.
Lydia Krembs, a junior environmental resources engineering major, was part of the first team to finish the Centennial Hunt, which sent students around campus in search of historical facts about ESF. The grand prize for the winners of the hunt is a $50 gift certificate to Small Stores.
"It was hard," she said. "We had to go to the (Robin Hood) oak tree first and write down when it was given to us, and then we had to go to Walters, Bray and Illick."
Krembs, who is also a member of Engineers Without Boarders, said the group set up a beanbag toss and gave the winners pint glasses.
"The event was really fun," she said. "I liked it a lot and the cupcakes were great."
The turnout for the event was larger than expected, said Mix, with more than 200 people in attendance. Mix said that the method of inviting organizations to sponsor activities rather than just tables will likely be adopted at other events throughout the year.
Bishop said Wednesday's celebration was inspired by ESF's history, when students used to have a day off in the middle of the week and celebrated fall with sack races and a barbeque at Green Lakes State Park.
"I think that's what really inspired it," said Mix. "We encouraged clubs to do activates that might be rooted more in ESF history."
At the celebration, students were asked to write suggestions for the location of a possible ESF time capsule, as well as items to include. Some of the popular locations included the Quad, under the Abraham Lincoln statue near Bray Hall, in the Gateway Building and beneath the Robin Hood Oak tree. Students wrote that they would like to see Robin Hood Oak acorns, a Centennial yearbook, student-submitted photos, a stuffed Oakie figure, photos of President Neil Murphy and hiking boots, among other items, be placed in the capsule.
Rigo Melgar, a junior environmental studies major, said he came up with the idea for the time capsule after watching a movie in which students open a time capsule that was buried at their school.
"My first idea was to include letters for future students," he said.
Other than letters, Melgar said he'd like to see any ESF artifacts that are important to students included. He said he would like to see the capsule, which he hopes will be placed on the Quad or near Bray Hall, opened in 25 years.
Green Construction Group hosted a table that featured a mock-up of a recycling shed the group made, as well as a make-your-own bottle opener station. Vincent Bonomi, a senior construction management major and group member, said the shed was made from recycled materials for the Bristol Library and houses a bottle return center.
"In the four months they've had it, they've made $1000," he said. "In the past, their old recycling center only made $500 a year."
The bottle openers were made with recycled 2 x 4 wood pieces and nails from Habitat For Humanity.
"We made about 40 bottle openers," he said. "A lot of people were making them and having a good time swinging the hammer."
- By Jessica Lynn Siart ES '12
Recent ESF News
News Archives
Communications & Marketing
SUNY-ESF
122 Bray Hall
1 Forestry Drive
Syracuse, NY 13210
315-470-6644