SHARE:
Company Supports Sustainability, Environmental Quality Work
GDF SUEZ makes donation to SEP, Center of Excellence

11/3/2011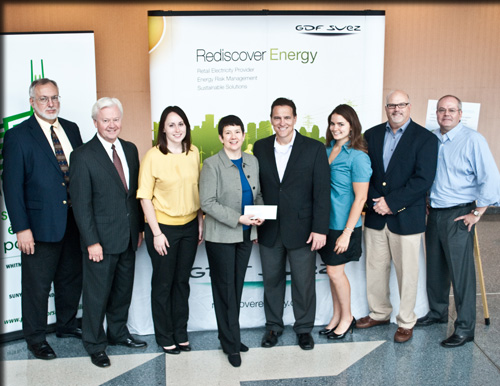 GDF SUEZ Energy Resources has announced donations to two collaborative organizations of which ESF is a member: $15,000 to the Sustainable Enterprise Partnership (SEP) and $10,000 to the Syracuse Center of Excellence (CoE).
The checks were presented at the Syracuse CoE Symposium 2011.
The SEP involves faculty and researchers from ESF, Syracuse University's Whitman School of Management and L.C. Smith College of Engineering and Computer Science, and the CoE. The partnership provides education and research on sustainable enterprise by melding the region's academic, public and private sector resources to address sustainability issues for businesses and other organizations.
ESF is a charter member of the CoE, which focuses on energy challenges, indoor environmental quality and water resources.
SU has contracted with GDF SUEZ to provide electric commodities through the 2014 fiscal year. This contract will provide the University with electricity rate savings over the duration of this three-year contract. In addition, the GDF SUEZ has chosen to support selected SU programs related to energy and sustainability, such as those in the SEP and Syracuse CoE.
The gift to the SEP will provide scholarship funding to support students who have already begun the Certificate of Advanced Study in Sustainable Enterprise (CASSE). CASSE is an advanced certificate program for full-time ESF and SU graduate students that integrates business, science, engineering, policy and practice, and emphasizes transdisciplinary collaboration.
"We are extremely grateful to GDF SUEZ Energy for all their contributions to our sustainability initiatives, and in particular this gift that supports students' ability to complete the CASSE," said Elet Callahan, SEP faculty director and professor of law and public policy in the Whitman School of Management. "The CASSE, in turn, aims to empower our future business and enterprise leaders to make educated and informed organizational decisions that respond to key environmental and social concerns, both now and in the future."
GDF SUEZ Energy Resources NA is one of the largest non-residential retail energy suppliers in the United States.
Recent ESF News
News Archives
Communications & Marketing
SUNY-ESF
122 Bray Hall
1 Forestry Drive
Syracuse, NY 13210
315-470-6644