SHARE:
College Honors Men, Women Who Served in Armed Forces
Veterans thanked for their service

11/7/2011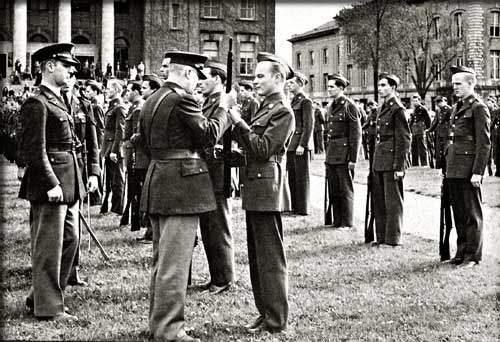 "As we express our gratitude, we must never forget that the highest appreciation is not to utter words, but to live by them." John Fitzgerald Kennedy
ESF students and alumni have long served their country in all branches of the armed forces. A photo from the 1943 Forestry College viewbook states "Forestry students at Syracuse always figure prominently in the Reserve Officer Training Program."
In honor of Veterans Day, we recognize those who have served in our country's military as reported to the College's Alumni Office.This list includes only alumni who have provided information prior to or during the most recent alumni dues solicitation. It does not include deceased alumni. If you are among the ESF alumni who served in the military, but your name is not on the list, we encourage you to let the Alumni Office know of your service by emailing the office at alumni@esf.edu or calling 315-470-6632.
A grateful campus community thanks all alumni for their service in times of peace and war.
Veterans from the main campus in Syracuse, NY
Joseph Abelson, '52
Dr. Kenneth B. Adams, '84
Lewis P. Allen, '72
Robert C. Almeter, '78
Lt. Col. Robert W. Alton, '84
James C. Andrews, '68
William L. Apgar, '59
Michael E. Askin, '96
Dr. Luther R. Auchmoody, '64
LTC Roger M. Baker Jr., '56
Dr. Robert D. Baker, '57
Capt. Alan H. Barbour, '63
David F. Barone, '74
Ralph J. Bartholomew, '41
Douglas L. Bartow Jr., '63
Major Jeffrey R. Bavis, '97
Norman E. Bell, '65
Otto Berggren, '50
Sgt. Christopher L. Berry, '93
LTC Daniel M. Birmingham,'72
Capt. Christopher J. Blaydon, '56
David L. Bleyle, '70
Col. Edward C. Boardman, '62
Robert M. Bownes, '58
John R. Brechko, '68
Capt. David M. Brooks, '81
Michael D. Bryan, '73
Pete R. Buist, '72
Frank W. Bulsiewicz, '59
Ltc. Frank B. Burggraf, '54
Col. Samuel L. Butler, '54
William J. Byrne Jr., '65
Lt. Col. Theodore R. Calver, '65
Major Gerald S. Campos, '73
Phillip C. Capone, '51
Capt. Jeffrey G. Carlen, '61
Ted R. Carson, '52
Sgt. Jason W. Castle, '99
Louis G. Catalanotto, '50
John J. Cesar, '69
C. Duane Coates, '51
Col. Barry S. Colassard, '55
Geoffrey P. Conine Sr., '58
Gordon D. Cook, '62
Col. Sheldon H. Cooper, '56
William A. Cowan, '52
Donald L. Cranston, '70
Jonathan D. Crawford, '81
Col. Victor J. Croizat, '40
Dr. Charles W. Cross, '63
Col. Chester D. Crowell, '52
CDR William B. Cubby, '40
Justin F. Culkowski, '73
Ltc. Jennifer L. Cummings, '95
Capt. Fred D. Dailey Jr., '60
David B. Daubert, '67
Howard J. Dean, '42
Dr. Richard P. Doering, MD, '74
Katherine A. Doig, '73
CDR Gail A. Donnelly, '79
Ltc. Chris E. Donovan, '79
Richard T. Doyle, '70
Edwin. S. Drabek, '55
Capt. Robert A. Dykes, '58
Dr. Alan C. Eachus, '64
Lt. Col. Julius J. Eckert, '50
Wilson F. Edinger, '50
Henry Eichenhofer, '60
R. Allen Falls, '69
John N. Faulring, '68
Lt. Col. Robert C. Ferguson, '61
LCDR Christopher K. Ferguson, '75
Lt. Col. Paul R. Fields, '69
Lt. Col. George C. Finck, '55
Brian T. Fitzgerald, '84
Major Thomas J. Flynn, '80
Col. Joseph F. Fontanella, '78
Eric J. Francke, '61
George Frey, '68
Lt. Col. Jeffrey M. Frohn, '69
LCDR Bernard J. Galvin, '53
CDR Steven D. Gnassi, '78
Capt. Thomas B. Goddard, '53
LTC Alvaro R. Gonzalez, '56
1st Lt. Aaron J. Gorges, '93
Scott K. Gray III, '57
John M. Gray, '63
Peter T. Gregory, '58
Col. David S. Grieshop, '61
Robert W. Guenther Jr., '52
Otto F. Guenther, '78
LCDR Paul M. Gugg, '80
Col. Victor J. Harwick, '40
Sgt. Carl J. Haugen, '82
Lt. Col. L.R. Hawkins, '59
James F. Hern, '54
Sgt. Jennyann Holloman, '81
Robert B. Hotaling, '42
George P. Howard Jr., '50
Robert E. Howard, '70
David W. Huffman, '67
Charles D. Huppuch, 58
Capt. Timothy C. Huss, '73
Larry Isaacson, '55
Fred L. Johnson, '49
CPT Matthew L. Johnson, '01
Capt. Richard W. Jokinen, '98
Michael H. Jones, '59
Grayson C. Jones, '69
Kevin J. Kehoe, '75
Col. Robert S. Kellar, '44
Jared P. Kennish, '67
Michael L. Kieff, '82
Robert B. Kinstrey, '67
Alfred Klayman, '38
Blair A. Knapp, '54
Mark J. Kopchak, '82
Andrew G. Korik, '07
Dr. Donald E. Koten, Ph.D., '66
Gregory F. Krasnai, '86
Edgar A. Kupillas, '53
Joseph A. La Spisa, '56
Paul C. Lambert, '50
Robert E. Lamoy, '72
Michael A. Larison, 74
Bruce E. LaRose, '66
Donald P. Lawton, '56
LCDR Zygmund Lenchert, '41
CPT Jon-Paul A. Leos, '00
Charles K. Likel, '75
Richard E. Lyon, '51
Frank J. Mack, '50
Shawn M. Maerz, '01
Col. Bryan B. Mahon, '84
CDR James R. Mallette, '82
Michael B. Maloney, '75
Cdr. Stephen J. Markey PE, '81
Cdr. Stephen P. Markle, '83
Capt. Stanley J. Marks, '53
Lt. Col. Timothy P. Maroney, '67
Col. Nicholas N. Marshall, '37
Stanley J. Martin, '63
Sgt. William A. Maserjian, '88
Lt. Derwood J. Mason III, '84
Walter R. McAllester, '50
George W. McBride, '69
Donald L. McConaughy, '53
Lawrence F. McGrail, '70
Paul A. McIntyre, '60
Robert S. McKinley, '54
Lt. Col. James D. McKinley, '62
Capt. Richard P. Merrifield DDS, '69
Col. Joseph E. Michaels, '73
Robert J. Mikula, '51
Sidney Mintzer, '41
Dr. Arthur H. Mittelstaedt Jr., '58
Major John Moisuk, '69
Donald G. Mook, '54
Rev. Jerome A. Moore DMin, '57
Benjamin W. Morey, '75
Capt. Edward G. Morris, '77
Ralph F. Mumme, '57
Christopher L. Murphy, '62
LTC John M. Murray, '70
Dr. William P. Nagel, '53
Thomas J. Nedlik, '97
Col. Grover F. Nelson, '38
David H. Nelson, '60
George W. Noble, '60
Raymond J. Nolan, '80
Alfred Obrist, '41
James O'Keefe, '50
James D. Pelkey, '50
David A. Peters, '73
Sgt. Gregory J. Pforter, '95
Capt. Thomas R. Pigage, '66
James. W. Pinkerton, '65
Daniel B. Place, '55
John L. Platt, '04
Ilmar J. Pohl, '73
Donald H. Potter, '59
Charles E. Pound Sr., 41
Richard H. Powell, '71
Francis E. Prete, '53
LCDR Richard O. Reed, '56
LTC Michael J. Reed, '96
Dr. Paul W. Resler, '68
Lt. Col. Robert C. Reville, '84
Calvin F. Reynolds, '51
Terry O. Reynolds, '67
Edward H. Rickels, '50
Barry D. Riordan, '68
Dr. Cylde D. Robbins, '58
Raymond M. Rogers, '56
Dr. Charles E. Rogers, Ph.D., '57
Jerome M. Rose, '59
Adele Rossi-Marsh, '71
COL Richard G. Rounseville, '59
David G. Ryel CNP, '61
Walter G. Sall, '66
LCDR Mark R. Scherberger, '78
Dr. George J. Schmitt, '60
Robert J. Schug, '85
Hermann F. Schulz, '64
Charles E. Schwarz, '63
Col. Raymond K. Scrocco, '77
LTC Fred W. Seybold, '50
Lt. Col. Daniel J. Sharkey, '67
Col. Thomas D. Shearer, '78
Joseph H. Shuttleworth Jr., '50
Timothy J. Slavin, '82
George Slutsky, '50
William R. Smith, '54
Gerard T. Sowinski, '54
Lt. Col. Thomas J. Spittler, '66
Col. John R. Stell, '58
Alan M. Stiehler, '68
John R. Stone, '39
Edward H. Stone II, '55
Daniel A. Sulitka, '67
Lt. Col. Knut N. Svendsen, '76
O. Erl Swanson, '59
Dr. Robert C. Thatcher, '53
Dr. Gerard M. Thomas, '51
Ronald S. Thompson, CPA, '65
James W. Tinney Jr., '65
Paul F. Tober, '68
Lt. Gary W. Tyler, '75
Kevin R. Ulrich, '06
Cpl. James S. Van Atta, '78
Jan. B. Vrooman, '59
Col. Richard P. Wagenaar, '82
Thomas H. Wahl, '71
Sydney J. Walker, '53
Luise E. Walker, '61
Dr. Russell S. Walters, '90
Ltc. Charles R. Wardwell, '40
Kenneth M. Watson, '50
Stephen G. Weatherly, '63
Victor F. Wehnau, '72
Lt. William M. Wehrmeyer, '86
Hermann E. Welm, '63
Lt. Col. Neil R. White, '66
2nd Lt. Raymond J. White, '86
PFC Peter I. Wieland, '84
Lawrence G. Wilke, '53
John S. Winiarski, '75
Thomas C. Wirickx, '98
Donald E. Wirth, '64
John F. Wixted, '59
W. Franklin Wood, '59
Capt. Joseph J. Zeglen, '74
Walter F. Zelie, '72
Lt. Col. Leonard A. Zigment, '71
Veterans from The Ranger School in Wanakena
Capt. Charles J.M. Armstrong, '01
LTC James S. Brewer, '53
Sgt. David R. Dominick, '65
Lt. Brian C. Dubay, '92
Col. Carl F. Hagen, '54
Lt. Anthony H. Lenkiewicz, '64
Lt. William A. Morse, '60
Capt. David A. Peszko, '62
Milton H. Stiles, '53
Lt. Col. Robert E. Topping Jr., '73
Recent ESF News
News Archives
Communications & Marketing
SUNY ESF
122 Bray Hall
1 Forestry Drive
Syracuse, NY 13210
Communications@esf.edu