SHARE:
Friends in High Places
As governor and president FDR was long-time supporter of College

12/19/2011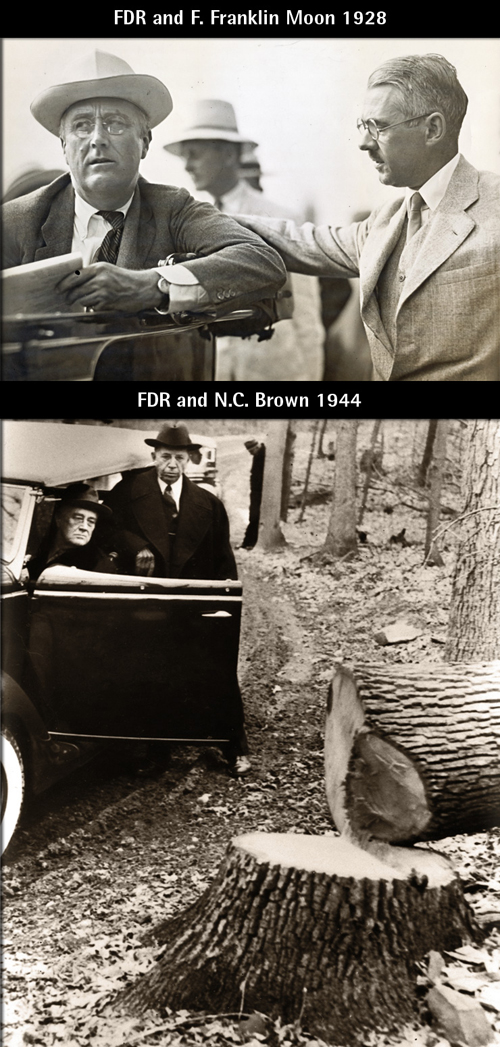 A governor's interest in managing his forested property ultimately led to the construction of Marshall Hall.
Professor Nelson C. Brown was acting dean at the College of Forestry in 1929 when he and Syracuse University Chancellor Charles W. Flint and and William H. Kelly, the vice president of the College's board of trustees, traveled to Albany to discuss a possible appropriation for an additional forestry building. At the time, Governor Franklin D. Roosevelt stated he saw no need for a new building.
At the same time, he expressed an interest in having someone from the College come visit his property in Hyde Park and provide advice on its management. Brown obliged and during their numerous meetings, brought the need for a new building on campus to the governor's attention. Persistence paid off as on Jan. 11, 1930, Roosevelt issued a statement that an appropriation of $600,000 be included in the budget for a building to be named after Louis Marshall for his "splendid services to the state."
Pictured: President Franklin D. Roosevelt and Professor Nelson C. Brown inspect a tree felled on the Roosevelt's Hyde Park estate in 1944.
Then-Governor Roosevelt talks with College President F. Franklin Moon.
Recent ESF News
News Archives
Communications & Marketing
SUNY ESF
122 Bray Hall
1 Forestry Drive
Syracuse, NY 13210
Communications@esf.edu