SHARE:
High School Students Get Hands-on Lessons from ESF Class
New Vision in Animal and Environmental Science earns college credits

1/20/2012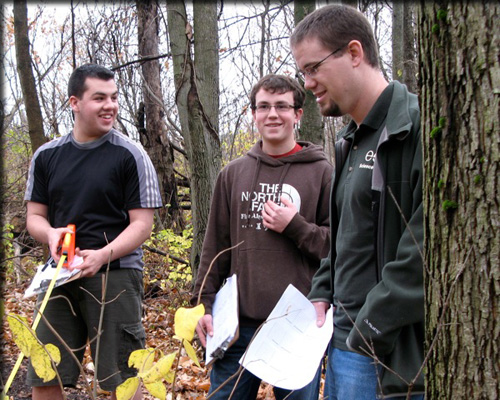 Central New York high school students interested in exploring science careers have an opportunity to step outside and do some hands-on learning through the New Vision Animal and Environmental Science class.
Offered by Onondaga-Cortland-Madison BOCES and located at Beaver lake Nature Center, the New Vision class allows students to learn in the outdoors while earning up to six credits from the SUNY College of Environmental Science and Forestry (ESF).
"This is a wonderful educational experience. It's how education should be. It's interdisciplinary, there's a small class and students get complete immersion in the program," said Cheryl Spada, an ESF alumna who teaches the class. "The students get a lot out of it even if they go into another kind of career entirely."
Spada leads daily lessons at the 600-acre Beaver Lake facility near Baldwinsville. Students spend the morning learning about such topics as land use, policy development, forestry, fish and wildlife, and alternative and renewable resources. ESF faculty and staff members frequently participate as guest lecturers.
The students take both ESF's Global Environment and Writing and the Environment courses and return to their home high schools for lunch and afternoon classes.
"The program offers some career exploration for students who don't necessarily want to sit in the classroom every day," said Brandon Murphy, a project coordinator with ESF Outreach, who recently led the students into the woods for a lesson on how to inventory plants. "They want to get out in the field and do some things."
"I'm doing this because I want to go to ESF," said Todd Lowe, a senior at Baker High School in Baldwinsville. "Plus, it's more hands-on learning. Out here we learn something and then we apply it really quick. Like with tree identification, we were outside with our notes examining trees as we were learning about them."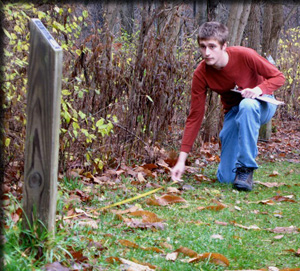 Lowe attends the class with fellow Baker seniors Tim Yeats, Chris Arnold and Ben Trowbridge, and a student from West Genesee High School. Spada said students from Marcellus, Westhill, Liverpool, Cicero-North Syracuse, LaFayette, Fayetteville-Manlius, Jamesville-DeWitt, East Syracuse-Minoa and Chittenango have taken the class.
Some students, Spada said, bring a strong academic record while others excel at fieldwork. Some enter the class with an interest in science and pursue careers in the field. Others use the college-level learning and hands-on experience as the basis for careers in fields that range from education to criminal justice to nursing.
"It's a diverse class," she said. "And it's a nurturing environment so they succeed."
Students interested in learning more about the class should contact their high school guidance counselors.