SHARE:
SEP Fellowship Brings Green Business Expertise to Syracuse
Business professor Michael Lenox to meet with faculty, students

2/14/2012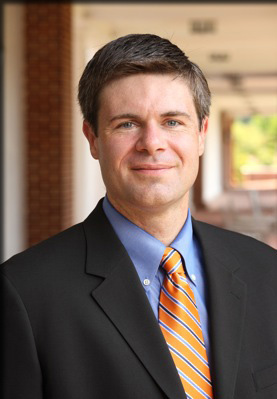 The Sustainable Enterprise Partnership (SEP), a collaborative effort that includes ESF and several university-affiliated partners, has announced that Michael Lenox, the Samuel L. Slover Professor of Business at the University of Virginia's Darden School of Business Administration, will be the SEP's 2012 Fetner Sustainable Enterprise Fellow.
As the Fetner Sustainable Enterprise Fellow, Lenox will be on the Syracuse University campus April 9 through 12 to work and meet with faculty, students and the business community and share his internationally recognized expertise in the intersection of business strategy, public policy and the natural environment.
On Monday, April 9, Lenox will discuss sustainability-related research trends and opportunities with SU and faculty and graduate students. Later in the week, he will lead a luncheon discussion for faculty and Ph.D. students on "Sustainability in the Curriculum," based on his leadership experience with this topic at Darden and Duke University. There will additionally be presentations from Whitman sustainability-focused curriculum innovation grant recipients.
During his time in Syracuse, he will also meet with graduate students enrolled in the SEP's Certificate of Advanced Study in Sustainable Enterprise (CASSE) program and guest teach the CASSE course "Managing Sustainability."
On Wednesday, April 11, at 8 a.m., Lenox will share his research on trends in green tech entrepreneurship and innovation with the business community at a breakfast in the Whitman School's Milton Room. To register for this event, contact Carolyn Hilleges at clhilleg@syr.edu.
The Fetner Sustainable Enterprise Fellow is made possible through a gift by Hal Fetner '83, president and CEO of Durst-Fetner Residential, and his wife, Nina. This recognition is given annually to an academic expert in sustainable enterprise whose three- to four-day residency involves direct, in-depth work with faculty and students.
"We are so pleased that Dr. Lenox is this year's Fetner Sustainable Enterprise Fellow," said Fetner. "Michael Lenox is recognized internationally for his expertise in innovation and entrepreneurship. Our students and faculty, as well as the business community, have much to learn from his perspective on the importance of sustainability to economic growth and competitive success."
Lenox's recent work explores firm strategies and non-traditional public policies that have the potential to drive "green" innovation and entrepreneurship.
Lenox's research has appeared in more than 25 refereed academic publications and he is often cited in national media outlets. In 2009, he was recognized as a Faculty Pioneer by the Aspen Institute's Center for Business Education for his leadership in integrating social and environmental issues into his teaching and research. Also that year, he was named as the top strategy professor under 40 by the Strategic Management Society.
Lenox serves as the faculty director for the multiple-university Alliance for Research on Corporate Sustainability. He is the executive director of Darden's Batten Institute for Entrepreneurship and Innovation. Prior to joining Darden in 2008, he was a professor at Duke University's Fuqua School of Business, where he was the founder and faculty director of Duke's Corporate Sustainability Initiative.
The SEP is a collaborative initiative of ESF, the Whitman School of Management at SU, L.C. Smith College of Engineering and Computer Science at SU, and the Syracuse Center of Excellence in Environmental and Energy Systems. It provides world-class education and research on sustainable enterprise by leveraging the academic, public and private sector resources of Central New York and beyond to address this significant and growing area of concern for businesses and other organizations.
Recent ESF News
News Archives
Communications & Marketing
SUNY-ESF
122 Bray Hall
1 Forestry Drive
Syracuse, NY 13210
315-470-6644