SHARE:
Grannis: Updating "Bottle Bill" is a No-Brainer
"Common sense" measure will keep roadsides, parks and waterways cleaner.

1/21/2009
The video originally included in this story is no longer available via this page. Contact web@esf.edu if more information is required.
Copyright © All Rights Reserved by copyright holder
New York State Department of Environmental Conservation (DEC) Commissioner Pete Grannis today urged support of the "Bigger Better Bottle Bill," saying it would reduce litter, keep million of containers out of our landfills, help in the fight against global warming and generate badly needed revenue.
"As Governor Paterson has made clear, New York is facing a staggering budget deficit and must make many hard choices. But updating New York's 27-year-old Bottle Bill is not one of them," Grannis said during a news conference on the ESF campus. "Expanding the law to cover non-carbonated beverages such as fruit juice, water and sports drinks is long overdue."
"The SUNY College of Environmental Science and Forestry (ESF) strongly supports the efforts of Governor Paterson and Commissioner Grannis in supporting the Bigger Better Bottle Bill," said ESF President Cornelius B. Murphy, Jr. "An ESF alum coined the phrase, 'Reduce, Reuse, Recycle,' which is at the heart of the expansion of the Bottle Bill to non-carbonated drinks."
"Every year, folks flock to our State Fair booth to passionately champion this popular issue," said Tom Rhoads, executive director of the Onondaga County Resource Recovery Agency (OCRRA). "As a result, OCRRA has signatures from over 5,000 New Yorkers who are in favor of expanding the bottle bill. These supporters realize that updating this legislation makes both environmental and fiscal sense. I am also pleased to note that my peers in all three statewide waste management associations support this important opportunity to make the world a better place for our children."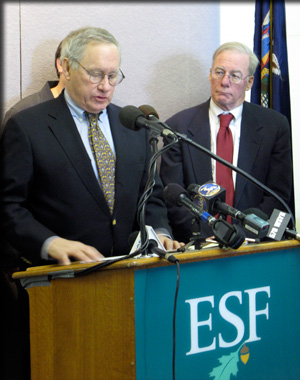 "New Yorkers, from Montauk to Buffalo, have called for the modernization of our successful bottle bill for many years. Now economic realities make expanding the bottle bill a necessity," said Dereth Glance, executive program director for Citizens Campaign for the Environment. "No longer can unredeemed nickels pad corporate bonuses, this revenue must now be directed to benefit the people, environment, and economy of New York State."
Since the original Bottle Bill was enacted in 1982, requiring a five-cent deposit on beer and carbonated drinks, roadside litter has been reduced 70 percent. More than 90 billion containers and 6 million tons of glass, aluminum and plastic have been recycled, resulting in saving more than 50 million barrels of oil and eliminating 5 million metric tons of greenhouse gases - a sum equal to getting 600,000 cars off the road for one year.
Grannis noted that a flaw in the current law is that the five-cent deposit applies only to beer and carbonated beverages. In his 2009-10 Executive Budget, Governor Paterson has proposed expanding the law to apply to non-carbonated beverages.
"It makes no sense to continue to differentiate these containers based on their contents - especially with non-carbonated drinks now making up more than one-quarter of the beverage market," Grannis said. "An expanded bottle bill also will keep New York's roadsides, waterways and parks cleaner. Right now, too many plastic and glass containers end up as trash in our parks, playgrounds, rivers and lakes. And this problem will continue to grow as people buy more water and sports drinks."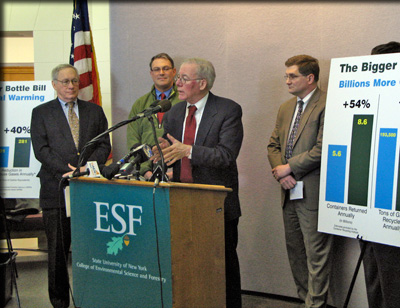 Grannis cited a 2005 study by the Onondaga County Resource Recovery Agency that found that while 80 percent of plastic soda bottles are recycled, just 16 percent of plastic water bottles are recovered.
"Currently, nickels that customers pay on soda and beer containers but never reclaim remain with the beverage manufacturers," Grannis said. "Under the Bigger Better Bottle Bill, the industry would be required to return these funds to the state. This would amount to more than $100 million a year at a time of enormous financial difficulty."
Recent ESF News
News Archives
Communications & Marketing
SUNY-ESF
122 Bray Hall
1 Forestry Drive
Syracuse, NY 13210
315-470-6644