SHARE:
Syracuse Bucks Trend in Urban Tree Decline, Study Says
U.S. Forest Service researchers based at ESF publish study

2/28/2012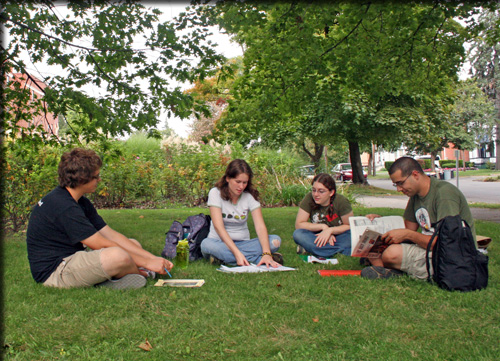 Urban tree cover has declined throughout the United States in the last few years, with the nation's urban areas losing about 4 million trees per year, according to a recent study by the U.S. Forest Service (USFS).
The one exception to the trend is Syracuse, which distinguished itself as the only city with an increase in tree cover. Overall tree coverage in Syracuse increased by one percent from 2003 to 2009.
But, while an increase in the size of the city's urban forest can be positive in some ways because of the environmental services that trees provide, the change in Syracuse is a mix of good and bad news: Researchers attributed the increase, in part, to the proliferation of an invasive species called European buckthorn.
European buckthorn is a shrubby tree that is considered a "pioneer species," often one of the first to appear when land is cleared or human caretakers stop tending open land. The researchers hypothesize that the increase in buckthorn may be, in part, due to the 1998 derecho that blew through Syracuse with winds that reached an estimated 115 mph and opened up land where the buckthorn could prosper.
The species can grow to 25 feet in height and can form dense thickets that crowd out native shrubs and herbs, prevent native tree and shrub regeneration, and alter wildlife habitat and local ecosystems. It is difficult to remove. European buckthorn produces berries that drop to the ground, or that birds and mice feed on, which helps the species spread. European buckthorn is listed on the New York State invasive species list.
The study's lead author said the research highlights the importance of monitoring the nation's urban trees.
"Monitoring is critical if you want to understand what's happening," said David J. Nowak, a USFS researcher based at the SUNY College of Environmental Science and Forestry (ESF) in Syracuse. "We need to know how our tree cover and its associated ecosystem services are changing through time. In addition to changes in the amount of tree cover, ground-based monitoring of how tree species composition is changing is also important. Species composition can also affect ecosystem services as well as habitat for both humans and wildlife."
While tree cover showed decline throughout the country, most of the 20 cities studied showed an increase in impervious ground cover such as pavement and rooftops.
A detailed comparison of aerial imagery taken approximately five years apart shows that, overall, city tree cover declined by an average of .27 percent per year while, at the same time, impervious surfaces increased by about .31 percent per year.
"Urban tree cover is changing. The trend is downward nationally," Nowak said. "Now, humans have to make some decisions. The question is, 'What amount and type of canopy do we want to have in the future?'"
Nowak and Forest Service colleague Eric Greenfield, who is also based at ESF, conducted the study and are the authors of a paper that appeared recently in the journal, Urban Forestry and Urban Greening.
Of the 20 cities studied, the ones that saw the biggest decrease in tree cover were New Orleans, Houston and Albuquerque. Nowak said the results were expected in New Orleans because of the devastation caused by Hurricane Katrina in 2005. The highest percentage of tree cover was found in Atlanta with 53.9 percent while the lowest was in Denver with 9.6 percent. Percentage of impervious cover was highest in New York with 61.1 percent and lowest in Nashville with 17.7 percent.
Nowak said that some tree cover loss has been offset by tree-planting campaigns that have been undertaken in recent years.
"Humans have to make decisions about how to manage their urban forests. The forest of the past might be a very different one from the forest of the future," Nowak said.
Recent ESF News
News Archives
Communications & Marketing
SUNY-ESF
122 Bray Hall
1 Forestry Drive
Syracuse, NY 13210
315-470-6644