SHARE:
Last Year a Job Seeker, This Year a Company Recruiter
ESF alum representing the company that hired her after 2011 ESF Career Fair

2/29/2012
The video associated with this story has been removed. Contact web@esf.edu if you need further information.
When Meredith Cummings attended the ESF Environmental Career Fair in 2011, she was a master's student looking for a job. This year, she represented e2e materials, the Ithaca-based company that hired her after the 2011 event.
Last year Cummings attended the career fair knowing e2e would be there. She had been employed with e2e previously while living in Ithaca after and knew the company had expanded.
"I knew they had grown to 20-plus employees and were doing a lot of good. I chatted with the guys who were here. I ended up getting re-interviewed and reeemployed," she said.
Today Cummings is a senior lab technician at e2e materials, a biocomposites company that specializes in biodegradable green building material.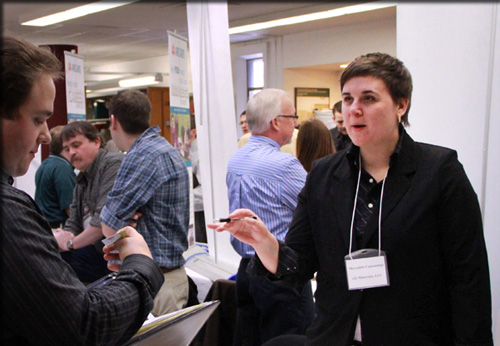 Meredith Cummings
"It's basically a formaldehyde-free biocomposite whose strength characteristics far exceed that particle board or MDF (medium density fiberboard)," said Cummings. "It's completely green and good for indoor applications because it doesn't give off chemicals."
In her position, Cummings conducts lab tests and works on research and development of the products. "I also do strength testing of the material, resin formulation and experimental design."
Having graduated from ESF with a master's degree in environmental science, Cummings sees daily applications of her ESF education in her work. "I reconnected my knowledge with the actual applications that I now do on a daily basis. It really helped. And my master's reignited my passion for the environment and getting into a business that's green and environmentally conscientious and sustainable," she said.
At this year's career fair, Cummings was looking for engineers including process engineers. "We're definitely looking for people to help in the lab and who like to get hands on. It's a lot of materials testing and getting dirty. Looking for people who are a little more ambitious in the lab."
The ESF Career Fair is different from other career fairs, said Cummings. "It's more lively. There's a lot more going on than other career fairs I've attended," she said. "The choice of businesses that come here are more specific in what they're looking for. Employers looking for environmentally minded students which is not always the case at other career fairs."
Approximately 450 students and 72 employers attended the 11th Environmental Career Fair, according to John Turbeville, career development officer. "This is the largest career fair in the event's history," he said. "Sometimes employers come to these events more for the networking opportunities, but today most of the groups here have positions open which I see as a positive sign of things to come with the economy."
Recent ESF News
News Archives
Communications & Marketing
SUNY ESF
122 Bray Hall
1 Forestry Drive
Syracuse, NY 13210
Communications@esf.edu