SHARE:
Collared Coyote Leaves a Record of 150-Mile Trek
The coyote's GPS collar provides a detailed account of his whereabouts

1/22/2009
The video originally included in this story is no longer available via this page. Contact web@esf.edu if more information is required.
Copyright © All Rights Reserved by copyright holder
A coyote collared with a global positioning system tracking device near Oneonta last spring was trapped this winter 150 miles away in East Stroudsburg, Pa., giving researchers a detailed record of its movements over an eight-month period.
The male coyote was about two years old when it was collared as part of an extensive study by the SUNY College of Environmental Science and Forestry (ESF). Christina Boser, a graduate student working on the project, said this is the first time one coyote has been tracked in such detail over several months.
"It's the first time we have this much information from a GPS unit," she said. "It's unique to have this."
The information will be analyzed to learn more about the habitat the coyote sought and the amount of energy it spent moving from one place to another.
Boser said the animal occasionally traveled for miles along highways before crossing them, perhaps because they were unfamiliar and appeared to present a danger. For several months, the coyote traveled between Interstate 88 and State Route 20 before it ventured across I-88.
"He bounced around like a pinball for six or eight months between these two roads, then eventually crossed I-88 and went south," she said.
The coyote was found Jan. 8 by a trapper who returned the collar through the Pennsylvania Game Commission.
The research team will continue its fieldwork through July. The data the scientists collect will be analyzed and used to learn more about the state's coyote population, the animals' diets and their effect on the deer herd in New York state.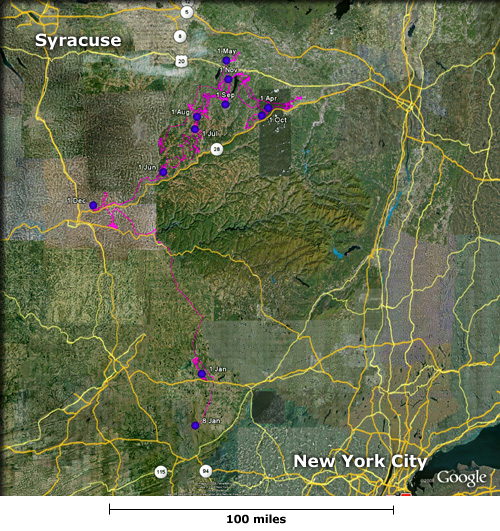 Recent ESF News
News Archives
Communications & Marketing
SUNY-ESF
122 Bray Hall
1 Forestry Drive
Syracuse, NY 13210
315-470-6644