SHARE:
ESF's 2008 Feinstone Speaker Tapped as President's Top Science Advisor
Dr. John Holdren is chosen for the Obama administration.

1/27/2009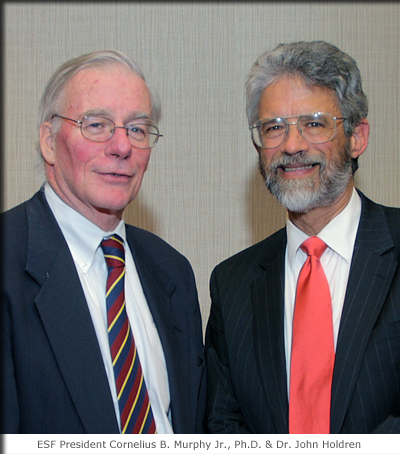 President Barack Obama has announced his appointment of Dr. John Holdren, who spoke at ESF in October, to high-ranking science advisory positions in the new administration.
Holdren has been chosen as Assistant to the President for Science and Technology, Director of the White House Office of Science and Technology Policy, and Co-Chair of the President's Council of Advisors on Science and Technology (PCAST).
Holdren addressed the ESF campus community in October 2008 on the topic of "Science and Economics of Sustainability: Managing the Competing Uses of Land, Water, and Forests Under a Changing Climate." He was also the featured speaker at the ESF Foundation's 2008 Sol Feinstone Environmental Awards Dinner, at which ESF alumni Jesse M. Fink and Elizabeth C. "Betsy" Mitchell-Fink were honored for their work advancing environmental entrepreneurship.
Holdren is the Teresa and John Heinz Professor of Environmental Policy at Harvard University and director of the Woods Hole Research Center in Falmouth, Mass. He previously was a member of President Clinton's Committee of Advisors on Science and Technology.
Recent ESF News
News Archives
Communications & Marketing
SUNY-ESF
122 Bray Hall
1 Forestry Drive
Syracuse, NY 13210
315-470-6644