SHARE:
ESF's Environmental Challenge Takes Over Carrier Dome
Hundreds of students bring the field of science to the football field.

3/15/2012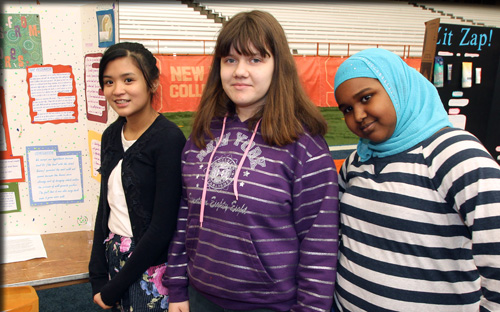 Five hundred students from 10 middle schools in the City of Syracuse participated in the Environmental Challenge science fair sponsored by the SUNY College of Environmental Science and Forestry March 14.
The event, held in the Carrier Dome because the number of participants outgrew the previous venue on the ESF campus, is in its 11th year of challenging students to take a step beyond the typical science fair and fashion their projects around environmental topics.
"We need you to show us what's important to you as we go forward," said ESF President Cornelius B. Murphy, Jr., in his welcome to the young scientists. "We are going to be relying on you to lead us through future environmental challenges."
The Environmental Challenge is designed to encourage student projects that support and extend the seventh/eighth-grade grade science curriculum; foster student and teacher research, scientific inquiry, and critical thinking; expand student exploration of science, engineering, and related careers and educational interests; and increase student exploration and understanding of the urban environment and its relationship to the global environment.