SHARE:
ESF's New Building Highlighted at Conference
Gateway Building's sustainable technologies highlight of Green Building Conference

3/16/2012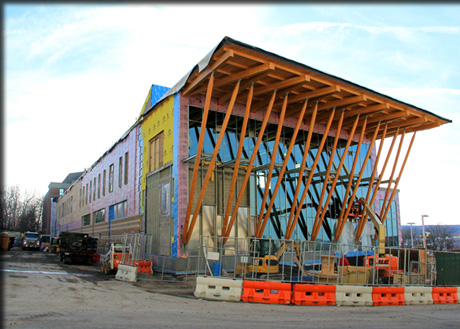 An on-campus power plant, a green roof based on a rare native plant community and a design that will provide teaching opportunities are a sampling of features in the Gateway Building at the SUNY College of Environmental Science and Forestry (ESF).
The Gateway Building will be highlighted during the 10th Annual Green Building Conference March 29 and 30 at the Oncenter. Ellen Watts, principal at Architerra, the firm responsible for the building's design, and Michael Kelleher, ESF's director of renewable energy systems, will present a session on the building's unique features.
Designed to achieve a U.S. Green Building Council Leadership in Energy and Environmental Design (LEED) Platinum certification, the Gateway Building will house the combined heat-and-power (CHP) systems.
"No other campus has a signature building that incorporates a central power plant," said Watts. "The Gateway Building is designed not only to welcome visitors, convey ESF's mission and values, and enhance the campus with a distinctive work of architecture, but also to meet 60 percent of the campus's peak heating requirements and supply 20 percent of its annual electricity needs."
"The power plant will use renewable fuels - biomass and solar energy - to reduce carbon emissions, lower operating costs, and provide students with a remarkable educational opportunity," said Watts.
The CHP project is made up of two complimentary systems. The first is a biomass-based system that will produce high-pressure steam that will be used to generate electricity by moving through a steam turbine before it is used to heat campus buildings. Complementing the biomass system will be three natural gas-fired microturbines that will provide a balance of electricity and steam for heating.
The Gateway will also feature an "intensive green roof," said Watts.
"The building's main roof will be vegetated with a 10,000 square-foot green roof, anticipated to be one of the largest and most intensive in the Northeast," she said.
Planting depths of up to 18 inches will support indigenous dune and alvar plant communities, providing the departments of landscape architecture and environmental and forest biology with an exceptional teaching tool.
A design that minimizes energy consumption is another hallmark of the Gateway Building. "The energy modeling shows that the use of innovative design and technology result in a building that uses 60 percent less energy than code," said Kelleher.
Technical features of the building include a high-performance building envelope and glazing (roof, walls, exterior solar shading), high-efficiency lighting, occupancy-based lighting and HVAC controls. Also featured will be daylight harvesting, and radiant floor heating and cooling.
Wood is a dominant feature of the Gateway Building's exterior. "The building creates its welcoming image by extending deep canopies north and south," said Watts. The canopies are structured with glulam wood beams and splayed timber masts made of sustainably harvested Douglas Fir. The lobby and main concourse feature round steel columns with round timber braces.
"This visual reference to 'trees' with 'branches' acknowledges ESF's role in sustainable forestry, wood products and construction management," she noted. A total of eight wood species, all Forest Stewardship Council certified, will be used throughout the building.
"Beautifully and durable, the Gateway Building will serve as a wood demonstration and reference guide for students," Watts noted.
The Green Building conference, scheduled for March 29-30, at the Oncenter Complex in Syracuse, is hosted by ESF in partnership with the U.S. Green Building Council New York Upstate Chapter.
The conference provides a forum for focused discussion of green building science, research and development, best practices, and operation and maintenance, as well as an opportunity for participants to network with other green building experts, professionals and researchers.
For more information, visit http://www.esf.edu/greenbuilding/
Recent ESF News
News Archives
Communications & Marketing
SUNY-ESF
122 Bray Hall
1 Forestry Drive
Syracuse, NY 13210
315-470-6644