SHARE:
ESF Teams Win Lumberjack Roundup
Menís and womenís Woodsmen Teams finish first

3/28/2012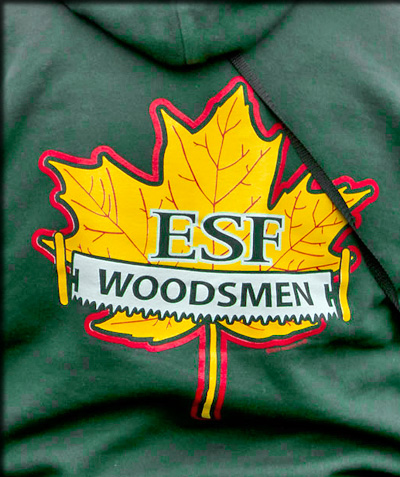 The SUNY-ESF Woodsmen's Team finished first overall in both the men's and women's competitions Saturday at the Seventh Annual East Coast Lumberjack Roundup hosted by ESF in Tully.
ESF's Jack-and-Jill team finished second in the competition for co-ed teams.
More than 100 students from colleges in the Northeast participated on 24 teams that competed in traditional logging skills such as sawing, chopping, splitting, log rolling, pole climbing, fire building and more.
ESF team President David Andrews said he was happy not only with the ESF team's victories, but with the variety of colleges and universities that competed and with the success of the overall event.
"I'm happy with the result after the incredible number of hours that myself and my teammates dedicated to this meet. To have it turn out so well was really the most rewarding thing," said Andrews, a four-year veteran of the team.
"Even if we hadn't won I would be super excited because of how smoothly it ran but winning was the icing on the cake. In fact that is the first first-place finish that the men's team from ESF has had since I joined back in the fall of 2008. For that to happen at the home meet my senior year really was special to me and the other seniors who have been getting second place for four years now."
Andrews said the strong finish of the ESF Men's 2 team, which beat the Men's 1 team in three events, makes him optimistic about the team's chances for success next year.
ESF's Men's 1 team took first place in vertical chop, horizontal chop, team log roll, team pulp toss and team bow saw. ESF's Men's 2 team cut down the competition in cookie stack, stock saw, and splitting with first place wins in those events. Together, the two ESF men's teams won eight of the 15 events.
ESF's Women's 1 team pulled ahead of Finger Lakes Community College by 75 points to take first place. The strongest events, where the team took first-place finishes, were single buck, hard hit, fire build, vertical chop, horizontal chop, team log roll and team crosscut.
The ESF Jack-and-Jill team finished second only to Paul Smith's, winning the stock saw, cookie stack, hard hit, cross cut to hell, and team pulp events.
ESF also fielded members on a team that included University of Connecticut students. ESF's Ranger School also competed in the roundup. Other colleges and universities represented at the competition were Alfred University, Cobleskill and West Virginia University.
The next meet for the ESF Woodmen's team will be April 14 at Alfred State. The season's competition concludes with the major spring meet April 29 at Dartmouth College in New Hampshire.