SHARE:
ESF Named To Service Honor Roll With Distinction
College recognized for outstanding community service

1/29/2009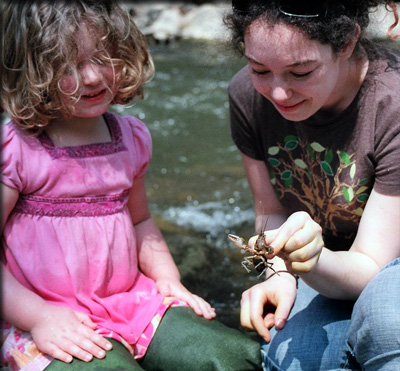 SYRACUSE - The SUNY College of Environmental Science and Forestry (ESF) was among 635 universities honored on the 2008 President's Higher Education Community Service Honor Roll.
This is the third year ESF has been named to the Honor Roll and the first year it's been named "with distinction." ESF is one of nine colleges in New York state and the only SUNY school to be so honored.
"The committee looks at the scope innovativeness and effectiveness of a college's community service and service learning programs," said Elizabeth Mix, ESF's community service and service learning coordinator.
ESF students completed 61,500 hours of community service in 2008. Projects included Freshman Saturday of Service, Adopt-A-Stream cleanup, the ESF SCIENCE Corps and the Campus Day of Service.
"An important component is how the campus community interacts with the community and how service is incorporated into the learning objectives," said Mix. ESF faculty play an important role connecting students to service through both community service and service learning projects, which connect classroom lessons with hands-on projects in the community.
"There are constant opportunities to get involved beyond just environmental projects," said Kayla Miloy, a sophomore environmental and forest biology major. Along with science-related projects such as working in local schools, Miloy said, "We also try to interact with the community with fun activities such as playing bingo with veterans, serving meals at a soup kitchen or doing face painting with school children."
"Our students are passionate about their community and the betterment of society," said Leah Flynn, director of student activities. "This honor is very exciting because so many schools have really paved the way for service. We do amazing projects here and to be recognized for it is amazing."
The Honor Roll, launched in 2006, recognizes colleges and universities nationwide that support innovative and effective community service and service-learning programs. The Honor Roll's Presidential Award, given each year to only a handful of institutions, is the highest federal recognition a college or university can receive for its commitment to volunteering, service-learning, and civic engagement.
"In this time of economic distress, we need volunteers more than ever. College students represent an enormous pool of idealism and energy to help tackle some of our toughest challenges," said Nicola Goren, acting CEO of the Corporation for National and Community Service, which oversees the Honor Roll. "We salute these universities for making community service a campus priority, and thank the millions of college students who are helping to renew America through service to others."
The Honor Roll is a program of the Corporation for National and Community Service, and is sponsored by the President's Council on Service and Civic Participation and the U.S. Departments of Education and Housing and Urban Development, in partnership with Campus Compact and the American Council on Education.
Recent ESF News
News Archives
Communications & Marketing
SUNY-ESF
122 Bray Hall
1 Forestry Drive
Syracuse, NY 13210
315-470-6644