SHARE:
ESF Professor Produces Videos about 100 Tree Species
Just in time for Arbor Day, videos available through youtube, iTunes U

4/23/2012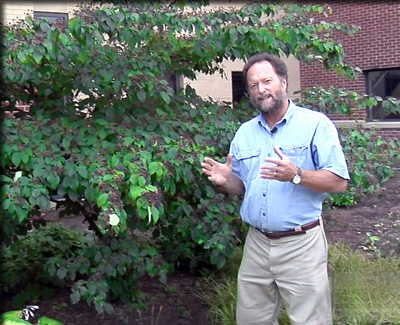 As tree enthusiasts prepare to observe Arbor Day 2012, the SUNY College of Environmental Science and Forestry (ESF) has made available video vignettes about 100 tree species.
The videos, available on youtube and iTunes U, feature the expertise of ESF Distinguished Teaching Professor Donald J. Leopold.
New York state alone has more than 125 native tree species. Many hundreds more have been introduced. Leopold covers both native and introduced species in the videos.
"Arbor Day, the last Friday in April, is a good time to learn something new about some of these species," Leopold said. "Making these vignettes was therapeutic, a reminder of what I enjoy most about being at ESF - teaching - and a fun challenge to try to package a brief summary of interesting information about so many tree species."
Each vignette is about two minutes long and includes important identification characteristics of each tree species, as well as ecological and economical information. Leopold, who has written Trees of New York State: Native and Naturalized and co-authored The Textbook of Dendrology, Trees of the Central Hardwood Forest Region, and Trees of the Southeast, teaches dendrology each fall to nearly 200 undergraduates. He made these vignettes to supplement the more formal lab instruction in his class and to give anyone interested in trees an opportunity to learn more about them.
"ESF has been teaching students and the public about trees for 100 years. The dendrology course at ESF is probably the largest and oldest in the country, and where the primary text on the subject emerged over 70 years ago and is still used in dendrology courses around the country and in Europe. These vignettes will reach a much larger audience than any course on campus can," Leopold said.
Leopold joins other environmental experts in encouraging the public to pause and recognize the significance of Arbor Day, a nationally celebrated observance that encourages tree planting and tree care and highlights the importance of trees to our environment, our economy and our quality of life. The observance was founded by J. Sterling Morton in Nebraska in 1872.
"In the eastern United States and throughout much of the world it is difficult to be unaffected by the beauty and ecological function of trees in urban and natural landscapes," Leopold said. "They contribute immensely to our health and many tree species provide significant wildlife habitat and economically valuable products."
Said New York State Department of Environmental Conservation Commissioner Joe Martens, an ESF alumnus: "Arbor Day is a national observance that celebrates the essential role trees play in our environment. By participating in the annual Arbor Day poster contest, students learn about trees and how they promote a healthy, balanced ecosystem. I encourage everyone to take a moment today and to consider how each of us can help preserve our precious natural resources."
The vignettes were recorded in HD and produced by Christopher Baycura, video/new media producer with ESF's Instructional Technology Service office.
Recent ESF News
News Archives
Communications & Marketing
SUNY-ESF
122 Bray Hall
1 Forestry Drive
Syracuse, NY 13210
315-470-6644