SHARE:
SUNY-ESF Alumnus Hosts Hillary Rodham Clinton in China
Qi Ye, now a professor in China, obtained his doctorate at ESF

2/24/2009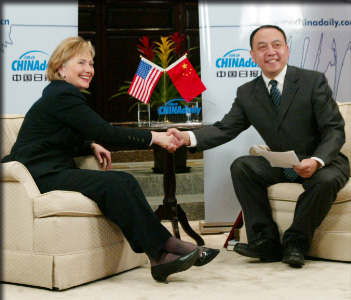 U.S. Secretary of State Hillary Rodham Clinton met Sunday, Feb. 22, with SUNY College of Environmental Science and Forestry (ESF) alumnus Qi Ye during a web chat from Beijing.
Qi, now a professor at China's distinguished Tsinghua University, hosted Rodham Clinton's web chat with Chinese internet users through chinadaily.com.cn.
When Qi asked the secretary of state to elaborate on the environmental cooperation agreed upon by China and the United States Saturday, Clinton said the two countries would enter a "strategic and economic dialogue" focusing on clean energy and climate change.
"We wish to create a series of actions and partnerships between our countries … we hope that there would be many opportunities … for partnerships between American companies and Chinese companies to produce cleaner energy," she said.
Qi earned his doctorate from ESF in 1994. He studied with Dr. Charles Hall, a systems ecologist who focuses on energy issues.
Recent ESF News
News Archives
Communications & Marketing
SUNY-ESF
122 Bray Hall
1 Forestry Drive
Syracuse, NY 13210
315-470-6644