SHARE:
Academic Regalia c. 2012: Former Plastic Bottles
ESF, SU graduates don more sustainable gowns

5/2/2012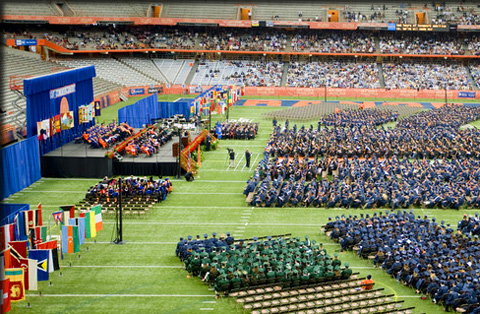 At the Syracuse University/SUNY-ESF 2012 Commencement celebration May 13, nearly 98,000 plastic bottles will be on display in the Carrier Dome, not in their original container shape, but in the form of 3,900 graduation gowns donned by students.
New this year, all of the custom-designed SU blue and SUNY-ESF green undergraduate gowns, along with the traditional master's black gowns, are certifiably sustainable. Each gown is made from Repreve Fabric, which uses fibers produced from approximately 25 post-consumer plastic bottles per gown that otherwise would be destined for a landfill. The Herff Jones Collegiate Caps & Gowns Co. has made this sustainable option available to SU and SUNY-ESF by offering its ReNew line of gowns, made using the Repreve fabric. Herff Jones also ships all of the gowns in recycled or recyclable materials.
"I think the students will be very pleased with the appearance and quality of the gowns, and also knowing that the University is committed to making eco-friendly changes," says Susan Germain, executive director of SU's Office of Special Events. "We're thrilled with the Herff Jones/Renew product line because the look and feel of the gown is almost identical to our traditional regalia."
"We have been looking for a good, recycled gown option for some time," says Mireya Porter, divisional merchandise manager for the SU Bookstore. "The recycled fabric options for gowns have really improved in the past few years, so we're happy that we're found a product that matches our needs."
Meagan Pepper, a SUNY-ESF senior who is scheduled to serve as a class marshal during Commencement, says using recycled gowns is a great initiative.
"It's something the students and their families will be excited to hear about, especially since they mentioned how many bottles went into the gowns," says Pepper, an environmental studies major from Plattsburgh, N.Y. She says the gowns will make a nice keepsake to remind SUNY-ESF and SU students about the sustainability lessons they learned during their college years.
ESF graduates will wear the same gown during the college's Convocation Saturday afternoon.
The new sustainable gowns are identical in design to those of years past. SU bachelor's degree candidates wear blue gowns, featuring the University seal and an orange stripe around the wristband; and SUNY-ESF bachelor degree graduates wear green gowns, featuring the SUNY-ESF seal and a white stripe around the wristband-all of which are provided free to undergraduate candidates. Master's degree candidates wear their traditional garb, which includes black gowns and distinctive hoods according to their degrees.
Porter also notes that the gowns have a sustainable post-Commencement destination as well. Following the Commencement ceremony, boxes in the Carrier Dome and around campus will be available for new graduates to recycle their gowns. Provided by Herff Jones, the boxes are an option for students who don't wish to keep their gown, with the recycled fabric returning to the company for new uses. With this post-consumer recycling process, the company is able to further reduce its dependence on newly manufactured petroleum-based polyester gowns.
In embracing this initiative of using recycled gowns, the University furthers its commitment to ensuring a healthy and sustainable lifestyle as part of the American College and University Presidents Climate Commitment-signed by Chancellor Cantor in 2007-and the University's Climate Action Plan.
- By Sara Miller, SU News Services
Recent ESF News
News Archives
Communications & Marketing
SUNY-ESF
122 Bray Hall
1 Forestry Drive
Syracuse, NY 13210
315-470-6644